Entrepreneurs as Guest Lecturers in Schools

By Galit Zamler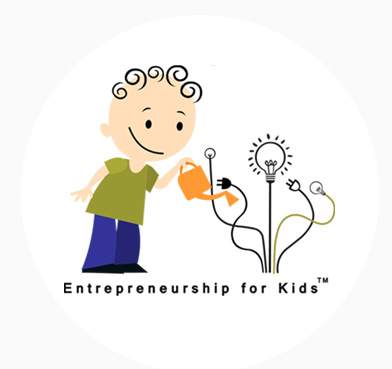 Entrepreneurship for Kids Program invites entrepreneurs as guest lecturers to schools to share their experience with young students. The entrepreneurial story always includes lessons the lecturers have learned.

Guest Entrepreneur Lecture: Eyal Dessau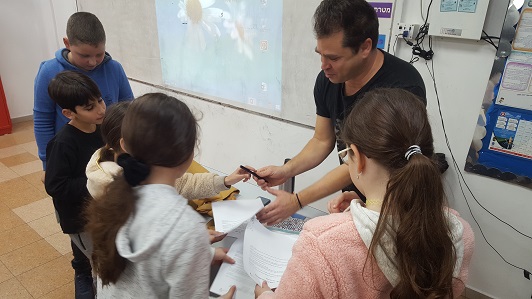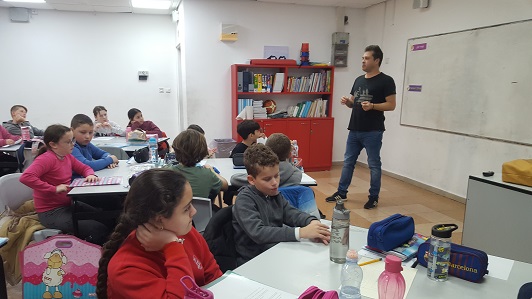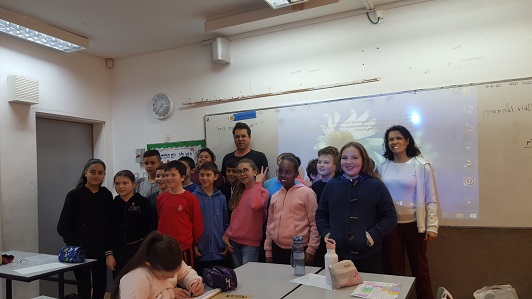 Eyal Dessau had a meeting with 5th graders in the school Northern Star School and told them how in his childhood, his grandmother, who was a math teacher, tried to teach him math too, but he couldn't understand the material.

As a result of something she said to him, he concluded that he's not smart. He carried this feeling with him up to a late age, that although, during his life, he became an entrepreneur, did business, build a family, and was even a member in a band that was very popular in the nineties - HiFive.

At an early age, he made a decision to allow himself to experiment with different things, in contrast to the conservative way he grew up in.

One of the things he did was responding to the want-ad in the paper, from "Hed Arzi," that was looking to cast young guys in a band.

He went to the audition even though he was not a singer nor even a dancer. Thanks to his guts and belief in himself, he passed all the auditions and got into the band.

The band's success came from hard work, determination, and many performances in cities across the country. In the beginning, in front of a limited audience, and only later on in front of a large audience.

From 2010 Eyal focused on developing apps, some more successful and some less.

In 2017 he and his partner came up with the idea of "Mathika" - a math learning program, based on gaming, in a way that every child can feel that they can succeed, and by that, receive a sense of confidence in the learning process, and also get ahead in the material, independently.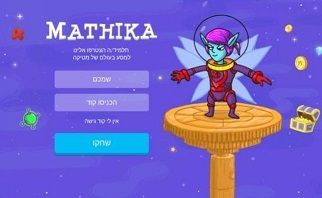 The idea to develop "Mathika" came from Eyal's need to correct his own experience with math studies as a kid.

The students tested "Mathika" in their meeting with Eyal, and learned to solve math problems with great enthusiasm.

Here are some insights from Eyal's lecture:

- Other people's words can affect us a lot, but afterward, we are responsible for our own destiny.

- To be successful with a project, you need to go through a process of tests, changes, and adjustments. It's better to make a minimal product and go out to the market with it before you put a lot of resources into producing a perfect and complete product.

- In order to sell a product/service, you need to build a story of the project, so people would feel emotionally connected and would want to have it.

At the end of the lecture, the kids asked Eyal questions. Some of them took pictures with him and even asked for his signature.

Here are some of the questions the students asked Eyal:

- What do you do with the coins and the diamonds you earn when solving the problems and questions in "Mathika"?

- Did you invent "Mathika"?

- Can you play "Mathika" at home and solve math problems alone?

- Your past failure was supposed to hurt your self-confidence, so how did you succeed in creating "Mathika" in spite of it?

- What was the first project you took part in?

- Is it challenging to be an entrepreneur?

- How many trials did you do with "Mathika" until you succeeded?

- Why are you not doing such program games for other subjects of study?

- If you hadn't gotten through what you have in your childhood, do you think you would have thought of such a product?

- How long did it take you to develop the product?

- How does one start developing an app?

Eyal answered all the questions very patiently.

At the end of the lecture, Eyal wrote: "Thank you very much for the opportunity. The inspiration was the children who asked questions, dared to try again, and talked about their fears, concerns, and aspirations."

Guest Entrepreneur Lecture: Lior Vaknin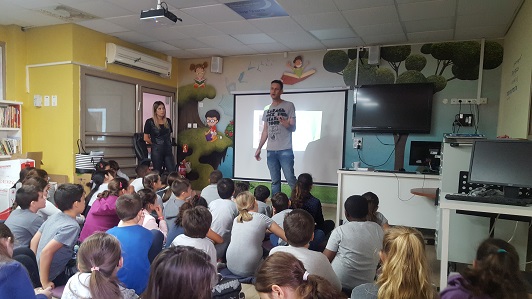 Lior came as a guest entrepreneur at the North Star School in the GEW2018 and explained to students that an entrepreneur doesn't have to invent something new.

The same is the case with his venture called "Havtutim." The project was born from the desire to grow many plants on his house roof.

Lior and his son searched for information on the Internet, combined some of the ideas they found, and finally chose the solution of barrels.

At first, some barrels were destroyed, but at the end, one barrel was successful, and it was possible to grow up to 70 strawberry plants, hence the name "Havtutim" (a combination of the words strawberry and barrel in Hebrew)

After uploading a post to Facebook, people became enthusiastic and interested. At first, Lior built a barrel on a volunteer basis at a center for people with disabilities.

He gave them a free workshop to see if there was any interest. He put his business card on the barrel, and people who came to the center saw the barrel with strawberries and loved it, contacted Lior, and ordered barrels.

So the hobby has become a profitable business. Some people order ready-made barrels, and some take part in workshops he leads, where together they make a barrel.

Lior explained that at first, not everything was perfect, but over time his barrels improved, mainly because he listened to the customers.

Lior explained to the students: "It's very easy to fall in love with your product, but it's always important to listen to the customers.

There were a lot of people who told me that the barrel was too big, I listened to them, and then I made mini- barrels.

People also asked me to add an automatic irrigation system, and I did it. Thus, people helped me improve the final product."

Lior summed up his insights: "It's important to do what you love because that's how you get the motivation to get up in the morning.

It's important to listen to customers, and if the product needs to be modified to please them, it's recommended to do so.

It's important to understand that there are many difficulties along the way, but you shouldn't give up. With a will, faith, and determination, you can overcome anything."

Guest Entrepreneur Lecture: Amit Saban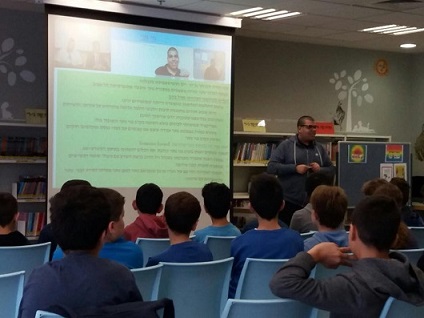 Amit Saban is a boy who has experienced cyberbullying by teenagers at his age. He has decided to make children understand what it means to harm someone via digital means over the net, how to avoid it, and what to do when it happens to you.

Amit founded the "Youth for Youth" organization. He recruited boys and girls who lecture and explain the social networking dangers, acceptance, and tolerance to the others and how to preserve each one's dignity in the digital arena as well.

Amit is a guest entrepreneur who comes to schools during the year and during the Global Entrepreneurship Week.

He recently attended the Ariel Sharon School on the National Week for Safe Browsing and shared his insights with the young students.

Guest Lecture: Tzuriel King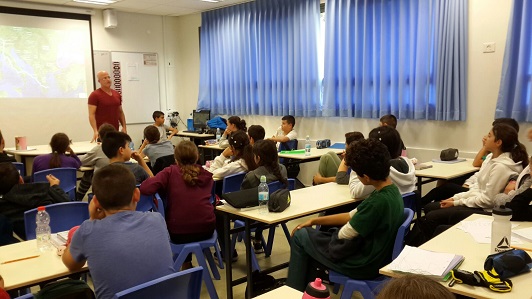 We were first exposed to Tzuriel King during the Global Entrepreneurship Week when he shared his inspiring story at the Ilanot School in Ashkelon.

When the teacher Lee Glick, who leads the Entrepreneurship Course for sixth graders at the "Katznelson" School in Kfar Sirkin, asked for a recommendation for a guest entrepreneur, we immediately connected her with Tzuriel.

Tzuriel came to the school and shared with the students the story of the 1,200km bike journey he did. During this journey, he collected donations for 150 needy families and raised the awareness of the importance of mutual responsibility.

The collected donations were used to purchase food packages, which were sent to people in need before the Passover holiday.

Tzuriel started his journey after asking himself the same question as appears in the Hebrew song: "When was the last time you have done something for someone else?".

The students showed interest in the lecture, asked questions, and expressed their appreciation of the initiative.

Tzuriel enjoyed the lecture as well and thanked Galit Zamler for the introduction to the school.
Guest Lecture: Doron Zekzer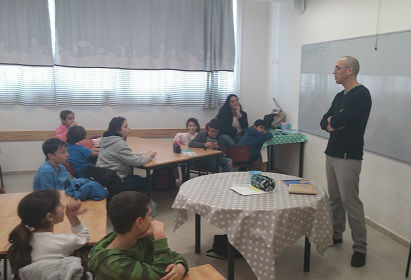 We met Doron after he accepted our invitation to be a guest lecturer during Global Entrepreneurship Week.

Following our meeting, Doron was also invited to the Sadot School in Pardes-Hana-Karkur for their Knowledge Day and told the students about his project, 'Shop Good.' This venture aims to encourage people and organizations to buy items produced by disabled people, allowing them to earn a respectable living.

Guest Lecture: Carmi Sternberg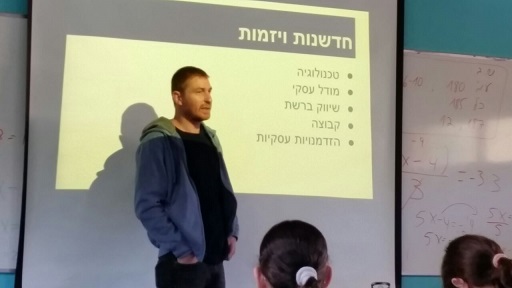 Carmi is a graduate of Mamram. He has worked as a systems programmer at the innovative SANGate, BMC, and as an architect manager at Discount Bank.

He established Info Meta Ltd., which led several projects in Israel and around the world, including g-patrol, Seeds of Love, happy sale, happy hour, etc.

Today, Carmi is the CEO of a Startup in the regulatory field and startup consultant.

Carmi was a guest lecturer at the HaBiluim and the HaManhil schools in Ramat Gan.

Carmi spoke to students who attend the EFK program about entrepreneurship and innovation, and about the different aspects of a new project: the idea, the business model, the investment, the team, marketing, and sales. He did so by many examples.

At the HaBiluim School, he put special emphasis on the students' project, School Vintage Store.
Guest Lecture: Miri Kotzer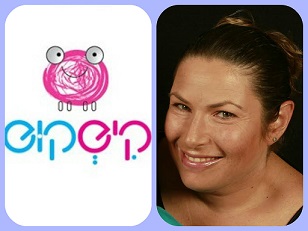 Miri was invited to talk at the Sadot School in Pardes-Hana-Karkur during their Knowledge Day.

Miri told the children how she founded Kishkush, a company that organizes birthday parties, workshops, and activities for children.

Miri spoke about the details that make her company's events successful. She has learned those details through experience.

For example KishKush ensures that even if there are competitions during the event, there is no winning team since it is important that everyone feels good and enjoys the event.

More examples:

"We learned that parents look for birthday cake ideas, so today we also provide special cakes for events.

We also realized that it is important for parents that birthday child to be at the center of the event so that they will feel important. We ensure that it is so, and emphasize that to the parents who are interested in hiring our services.

Besides, at our events, everyone gets a prize, and the same prize, so that all the children have a good feeling."

Miri spoke about events and activities that KishKush holds at hotels and large organizations, and how this helps her with marketing the company to more organizations. In this way, for example, she invites interested potential clients to come and see these events at large and well-known companies, which creates a good impression.

Miri explained that it is vital to continually re-invent yourself, and always innovate to remain relevant in the market.

A photo of Miri and the Sadot School: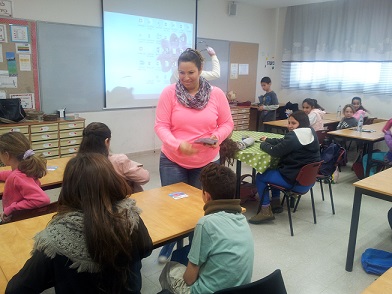 Guest Lecture: Liat Henriette Silber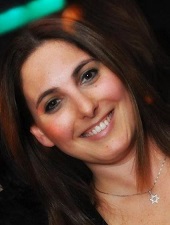 Liat was forced to quit her work as a dance and movement teacher and reflexologist due to arthritis.

At her lecture to the students, Liat talked about how she found the strength to cheer herself up and subsequently to encourage other people.

Liat published the book Word of the Day, a word that inspires and encourages action, and turns a person's day into a positive day.

Liat funded the book's production through crowdsourcing, and she spoke about this as well. She explained how the fundraising happened, what the project's supporters received, the moment of publishing, and the excitement that came with it, and her plans for the future.



Liat patiently answered the students' questions:

- Did you manage to raise all the money? How long did it take?

- How do you get the money?

- How do you charge people?

- How much should each person give?

- Who did you consult with before putting the project on the website?

- Do you feel better now, health-wise? Did you get better?

Liat's lectures took place at the Mordei HaGetaot School in Ramat Gan during Global Entrepreneurship Week, and during the school year at the Katznelson School in Kfar Sirkin and the HaShalom School in Mevaseret Zion.

Lee Glick, head of the entrepreneurship curriculum for kids at the Katznelson school in Kfar Sirkin wrote this after Liat's lecture:



"Dear Liat gave a talk to the students at the Katznelson school in Kfar Sirkin and made her mark, proving that even difficulties in life can lead to magical worlds if you have the will, determination, and love. Thank you, Liat, for an unforgettable lecture!

A photo of Liat's lecture at the HaShalom school for students who participates in the EFK Program.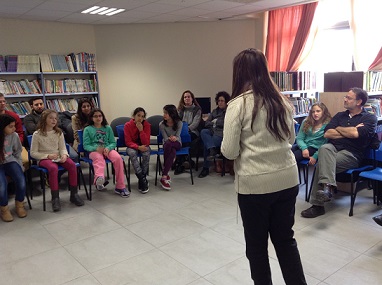 At the HaShalom School, Sigal Bar, the program coordinator, asked the students, "What characteristics do you think she needed to have in order to publish the book?"

The students answered: "Bravery, consideration to help others, optimism, self-confidence, risk-taking, determination and striving towards a goal."

Liat shared her plans for the future with the students: translating the book into English and selling it on Amazon.

To conclude, Liat wished the entrepreneurial students' success with fulfilling their dreams, even if things don't work out, they should never give up.

Determination, perseverance, and faith - that's all an entrepreneur needs.

After the lecture, Liat posted the following on Facebook: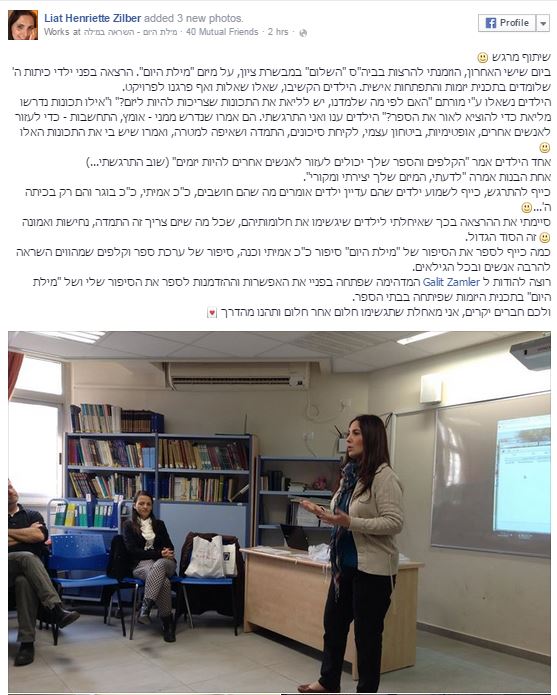 Liat also arrived at the Yitzhak Navon school in Shoham. This time, her talk was to the teaching staff.

The purpose of the meeting was to expose the teachers to an entrepreneurial process, knowing that each entrepreneur is undergoing a different process.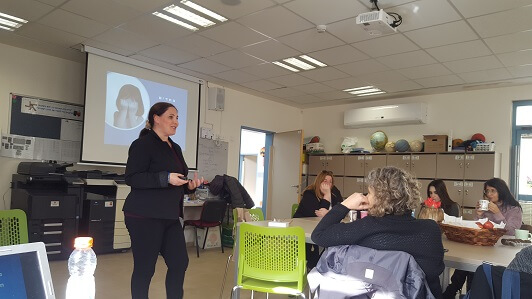 Guest Lecture: Hanan Shemesh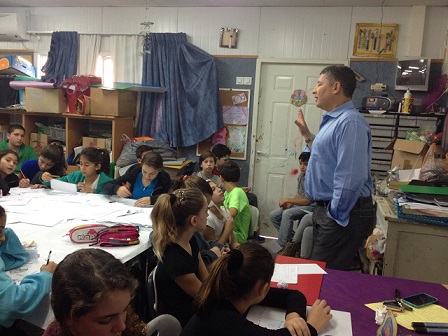 Hanan Shemesh is a lawyer, and in the past, he was the owner and CEO of a private export company for fresh agricultural produce.

Later, he opened a law firm dealing with various entrepreneurial projects in the marketing and real estate field.

He later focused on founding a global marketing network, and in 2009 he joined the Keren Hagshama Company as a partner, where he is the chairman.

The Keren Hagshama locates promising business and entrepreneurial opportunities and provides investors options to make large profits from entrepreneurial activity.

At the same time, Hanan is also a partner at Cofix, and these days, he is also a partner at the new Cofix supermarket, a chain where every item will be sold for 5 NIS.

Hanan was invited to be a guest lecturer at the Katznelson school in Kfar Sirkin and shared his experience with the students.

Hanan spoke about the challenges he had along the way, and how he dealt with them. For example, five days before Cofix was launched, their coffee provider got cold feet and left, because other companies, fearing competition, tempted him, or because he feared that the project would fail.

This difficulty forced Hanan and his partners to find a new coffee provider within five days, and they did find one.

Hanan spoke to the children about the characteristics of an entrepreneur and about the ability to make dreams come true if you just want it and strive for it, and don't give up.

Hanan also spoke about a social project that he is a part of; This is a project where children from the periphery undergo an IDF preparation program, in order to get them to enlist in the IDF and reach significant positions in the military.

After the lecture, Hanan wrote to Lee Glick, who teaches the entrepreneurship program in the school:

"Following the engaging lecture this morning, the children are charming, and it is obvious that you work well with them, given their quick understanding and approach to the subject. Good work!"

Lee Glick wrote: "The children were fascinated and excited to meet a successful entrepreneur."

Guest Lecture: Hagai Cohen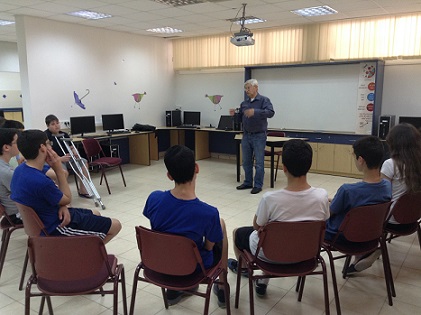 Hagai Cohen, an entrepreneur who develops games for disabled children, came to talk to the leadership and entrepreneurship students at the Mordei HaGeta'ot school in Ramat Gan.

Hagai, who specializes in applied Physics principles, asked the children: "How do you inflate a tennis ball, and why is the ball wrapped in a furry casing?"

After the entrepreneurial students attempted to answer the question, Hagai explained the different uses of variations in air pressure, like inflating tennis balls, or easily cracking nuts without crushing them.

In addition, Hagai used the tools he brought with him to demonstrate how to lift a heavy object easily with things found at home.

As an entrepreneur, Hagai shared an important tip with the students: "An entrepreneur should be able to tell a direct, clear and interesting story, in order to make the target audience be interested in his/her product/service."

He told about how he successfully interested Larry Page, one of Google's founders, in his son's project about Voice over lp during a short conversation, after which the two held a business meeting.

The students were very interested in the lecture, and at the end of the meeting, they wanted to know if Hagai would return for more sessions.

Guest Lecture: Sibel Zuaretz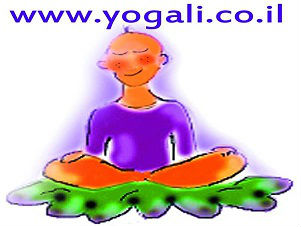 Sibel Zuaretz told the leadership and entrepreneurship students at the Mordei HaGeta'ot school about the process of starting her business, Yoga Flowers. She founded it following a personal need to find a solution for her pain.
Sibel spoke about choosing a name, designing the logo and its colors, how she began to make up stories so that she could remember the order of the exercises during her workshops and lessons.

Sibel also showed the students what activities she undertakes to market her business, like creating a Facebook page called creative yoga for children - yoga flowers, setting up a website called Yogali, writing a column in Being Parents magazine, collaboration with colleagues, and more.

Here is Sibel's presentation:


To watch a clip from Sibel's lecture, visit the Global Entrepreneurship page.
Guest Lecture: SpaceIL project, Irma Ben Moshe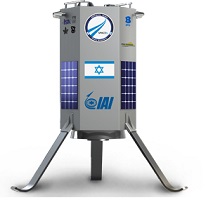 The HaShalom school in Mevaseret Zion takes part in the Entrepreneurship for Kids Program.

Around 50 students and their parents attended a lecture by Iram Ben Moshe about SpaceIL - the Israeli spaceship project.

Irma presented a slideshow and told the students how they had the idea to land the first Israeli spaceship on the moon.

The founders decided to take this opportunity to encourage the young generation in Israel to get involved in science and astronomy, and they did so through volunteers who visit schools and tell the students about their idea and the process they are going through.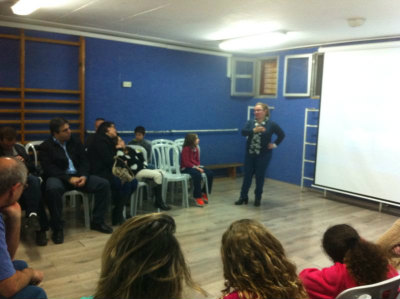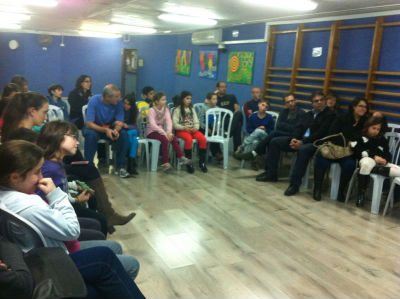 Guest Lecture: Ayala Geron


Ayala developed an unusual path game for children, Elephant and Cat in a path adventure.

Ayala collaborated with Foxmind, and the game became a success. During her lecture, she spoke about the process she underwent until the project succeeded, and the different versions of the game from the idea stage to the final product.

Ayala is also a social entrepreneur, and in her lecture, she compares between social and business entrepreneurship.

Ayala is married with two children, is a computer engineer, and works in the high-tech. Among her hobbies are reading, leading workshops for the elderly (about positive thinking, feeling useful and mutual aid relationships), and developing board games.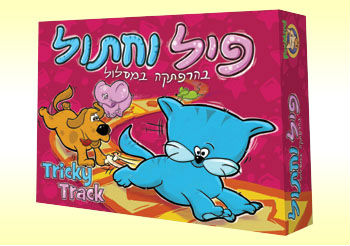 later, Foxmind Company released another game that Ayala developed.

Ayala says that having an experience and a well-known character in the gaming industry helped her to promote the idea of developing The Web game.

The Entrepreneurship for Kids Program recommends the fun game, which develops planning and strategic skills.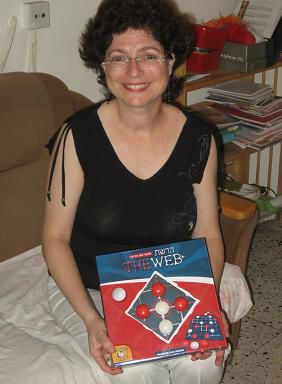 EVT Entrepreneurs Lecture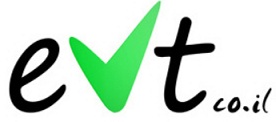 EVT is lead by two entrepreneurs. The founder of the project visited the Mordei HaGeta'ot school to lecture as part of the Entrepreneurship for Kids Program.

The project deals with health and fitness and allows people to participate in fitness exercises at home online.

The students saw up-close how to analyze a project's chance of success, what risks entrepreneurs take, and how they manage them.

They also learned about the difficulties involved in a project, the need to manage your funds wisely, the need to fundraise to fund a project, and more.

Finally, the students took part in a fitness exercise.

Of course, they enjoyed it very much.

The EVT founders also visited the Blich school in Ramat Gan during their Owl Day and presented their project to 8th graders, sharing the process they go through as entrepreneurs.

The Entrepreneurship for Kids Program has found that the EVT lecture is especially suitable for students since it combines a lecture alongside physical activity, which the children enjoy.

Therefore the EVT founders were invited to talk in more schools, especially during Global Entrepreneurship Week.
Guest Lecture: Yossi Balaly


Yossi Balaly: Inventor and Developer of the game, Supergoal, the card game.

"Hi, I'm Yossi Balaly, 26 years old from Holon. I have four brothers and sisters, and I am the oldest one.

From the end of 2008, I spend most of my time thinking about creating children's games.

Creative thinking is not an easy thing; it requires a great effort.

Luckily my 11-year-old brother Kobi, who is the youngest, helps me with this. He helped me with the first game I developed and marketed, Supergoal the Card Game.

Every day I sit and think about which game could interest children and encourage them to buy it because there are many games out there, so why should Israeli children want my game in particular?

Anyway, the important things are willpower, determination, optimism, creativity, and never give up!

A short explanation of the game: Supergoal the Card Game is a social game for ages six and up, a mind game suitable for anyone, not just for soccer fans. It is a soccer-themed card game with four teams from the Israeli League. In the game, you find soccer rules, and with these, the smartest player will win the game."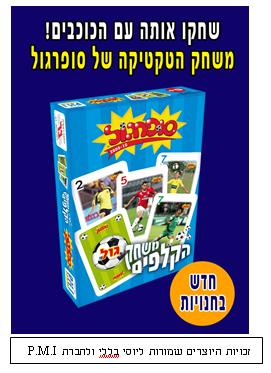 Guest Lecture: Sharon and Sassi, founders of Tal Shel Tikvah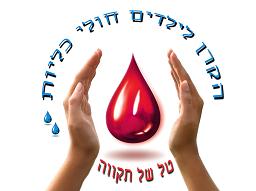 Tal Shel Tikvah is a foundation that aims to help children with kidney disease and cheer them up. The foundation works with six hospitals in Israel.

Sharon and Sassi said:

"Israel has four dialysis wards for children who undergo dialysis daily for 6 hours. During the dialysis, the children can't walk around, and must stay in one place."

Sharon said that the idea for their social project came from her own experience. . From the age of 10 months to 12 years, she lived in the hospital. She celebrated birthdays and even her Bat Mitzvah there. She remembered the boredom she felt as a child spending so much time in the hospital and already then decided that when she grew up, she'd help those children.

The children asked many questions:

"What do the kidneys do in the body? Why do the children need to undergo dialysis? Isn't it better to do it while they're sleeping? What happens to hyperactive children, who can't stay in one place for so long? Don't they get used to the boredom?"

Sassi and Sharon answered the questions and said that undergoing dialysis at night, while the kids are asleep, is a good idea. Still, the cost of a dialysis machine is very high, and very few families can afford to buy one.

The Tal Shel Tikvah Foundation was founded to cheer the children up during their dialysis. Among other tasks, the foundation took it upon itself to organize fun days for the children outside of the hospital and to give them some variation in their daily life. The foundation sends a monthly kit with art supplies to help with the children's boredom.

The foundation also produces original movies and sends the children well-known animated films that they can watch to make their time in the hospital more pleasant.

The lessons Sharon and Sassi learned while starting a business: "Many times, those around you will oppose you and won't support your project and idea, so it is important to know the significance of making your idea a reality, to believe in yourself, in your path and in your truth, and to insist. These will help you be creative enough to overcome difficulties."

The children considered the problems involved in starting a foundation and in its activities and suggested their own solutions to issues like fundraising, volunteering, candy, and games. They also proposed solutions to logistic problems like transporting donated items in order to package them and deliver them to hospitals around the country.

Sharon spoke about how before Hannuka she posted a Facebook ad asking companies, organizations, and other donors to donate. Within ten minutes, she got calls from 5 clowns who have published CDs, each of whom gave around 100 discs. Other companies donated gift baskets, and many people volunteered to assist with packaging.

To fundraise further, Sharon recorded herself telling her life story, and an author wrote the book, My Body Won't Betray Me. All of the book's profits are for the benefit of the Tal Shel Tikvah foundation and for helping children with kidney disease.

At the end of the lecture, the participants of the program took part in the social project and helped to package gifts for the sick children.

You are invited to visit the foundation's website, Tal Shel Tikvah, and see their activities, volunteer, and donate.

We would like to note that the PMI Company responded to a phone call from the Entrepreneurship for Kids Program and donated 100 packages of Supergoal cards, which were added to the gift packages.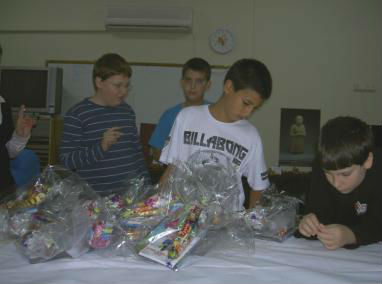 The founders of Tal Shel Tikvah answer all of the EFK Program's invitations and often come to lecture at schools.

They did so during Entrepreneurship Day at the Kaplan school in Petah Tikvah, where many entrepreneurs from the E-ship for Kids Program took part.

They also came to the Mordei HaGetaot school as guest lecturers, and to the Yad Mordechai School in Bat Yam during Global Entrepreneurship Week.

You can learn from their letter about the fruitful cooperation between the Entrepreneurship for Kids program and the Tal Shel Tikvah foundation.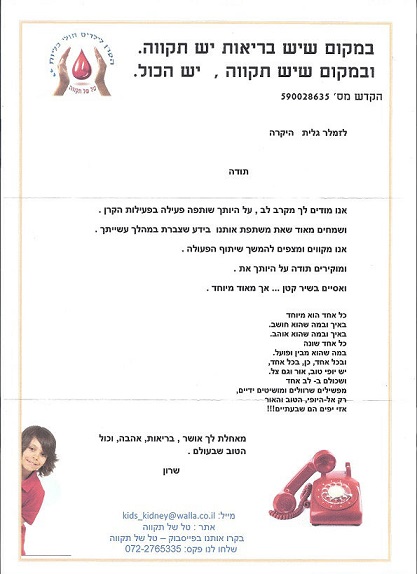 Guest Lecture: Gilad Polak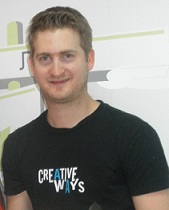 Gilad is co-CEO and founder of an online information project called Audio Didact: Turning knowledge into information.

Gilad visited the Kaplan school in Petah Tikvah during GEW as part of their entrepreneurship event, and the Mordei HaGetaot school in Ramat Gan during GEW.

Guest Lecture: Roy Julus
The Yad Mordechai school in Bat Yam, which encourages entrepreneurial and innovative thinking in its students, turned to Roy Julus and invited him to the school as a guest lecturer for 4th graders participating in the Entrepreneurship for Kids Program.

Roy was thrilled at the invitation and agreed to come and speak about the company he founded with his partners, the uniqueness of the colorful flower pots they developed and the protection of the development through patent registration.

Beyond the spectacular colors of the flowerpots, their uniqueness is that they can be placed on any railing, of any thickness and shape.

Roy showed the children some slides and explained about the flower pots, answered questions, spoke about the need which sparked the project, and of course, brought some flower pots to show the children.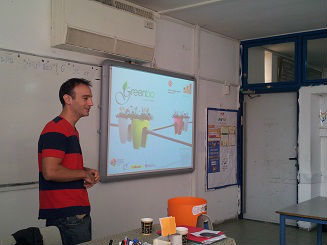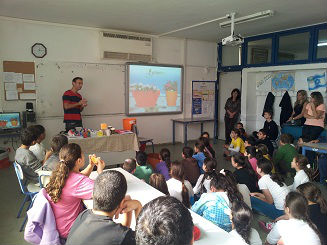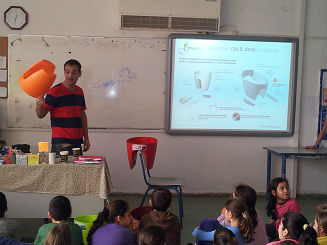 Guest Lecture: Eyal Amiel

Eyal's lecture dealt with the topic: Succeed in Making Dreams Come True

Eyal shared his personal story, which led him and his partner to move to Manhattan. There they set up a business for American ricochets attached to mountain bikes and offered rides in Manhattan. Then he recognized a great opportunity involving bicycles.

This opportunity took him and his business partner on a wonderful path of experience and adventure. But at the end of the day, the idea did not become a reality, so in fact, he failed.

Eyal shared with the students great insights and beliefs about success and failure and gave the children a basic and simple recipe for making dreams come true.

For example, failure is part of success. Success comes from the ability to keep going again and again, despite failures along the way until you find success. Like a toddler taking his first steps, he stumbles and falls until he succeeds.

Today, Eyal works as a deputy manager at a pet store in Holon, where he expanded activity and business, together with the owner, through a process of business consulting that he offered the store, using his academic background and his experience as an entrepreneur.

At the same time, Eyal is working on his new project, which focuses on "different" and creative education for kids aged 8-25. The goal is to provide them with the practical knowledge and tools necessary to make their dreams come true and create success and fulfillment in their lives.

"I decided to turn to you, dear children, before you become adults, because your way of thinking is a lot more open from that of adults, and therefore you have a very high ability to learn. You are very creative, and above all, your memory, principles, and beliefs are pure, and you are ready to accept new and different ideas. Within you, I see curiosity, magic, love, and the joy of life, and this inspires me greatly."

Eyal believes that the children of the world are the future, and he is, therefore, determined to reach as many children around the world as he can so he can do his part in creating a better world.

top