About Galit Zamler the Developer of Entrepreneurship for Kids™ Program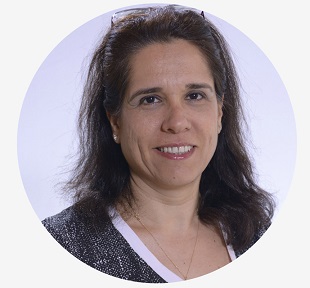 Galit Zamler is the creator and mastermind behind the Israeli entrepreneurship curriculum for kids.

Galit is a business and social entrepreneur, the co-founder of Galiel3.14 Ltd., an advisor, and lecturer on entrepreneurship education, leads Hackathons for students and entrepreneurship workshops for both students and teachers. She graduated with an M.B.A in business administration and a B.A. in social sciences and business administration.

How did the idea of Entrepreneurship for Kids™ Program come about?

The idea of developing a program for students on entrepreneurship stemmed from identification of the need to teach children entrepreneurial skills which will help them succeed in life in a dynamic world, in which we have to reinvent ourselves.

The acquisition of these life skills often, strengthen children and encourage them to succeed.

As an entrepreneur and a mom of four children, Galit understands that entrepreneurship is one of the most important growth engines of the economy in each country. She also has a unique appreciation and understanding of how important entrepreneurship is in contributing to the personal development of each of our children.

The program Entrepreneurship for Kids curates years of knowledge and experience in management as well as entrepreneurship that has been adapted for children in many different schools.

Kids who can see the entrepreneurial model at home are more likely to develop an entrepreneurial mindset as adults, but most kids don't have this model at home to emulate and study.

Galit believes that entrepreneurial competencies represent 21st-century skills. Learning these essential skills empowers children and encourages their success.

The program was first implemented in the elementary school of Galit's son. It was a big success, and another school heard about it. Galit was invited to teach the students at that school entrepreneurial studies and again the program was a big success. (Read the reviews)

At that point, Galit decided that the program was a definite benefit to students. It was so effective that she rewrote the program in such a way that teachers are able to take the lesson plans and implement the entrepreneurship lessons by themselves. Teaching utilizing the program today only use Galit's guidance and assistance when is needed.

The program has been taught in Israel and abroad since 2009. Over the years, more and more schools have come to understand the importance of acquiring entrepreneurial skills and implemented the program.

Sometimes it is parents who have heard about the program and offer it to the principals and other times it is school principals who want to help their students to succeed in real life.

Galit always makes sure that the content of the program is relevant and actual so that students and the teachers find entrepreneurship studies interesting and fun to learn.



Watch a video from 2017 in which Galit Zamler briefly talked about the story of the program to nurture student entrepreneurs:



Galit Zamler Answers the Question:

How do you know that the Entrepreneurship for Kids Program is a success?

The numbers, the responses, the interest, and the demand as listed below, prove again and again that this entrepreneurship program is a success story.

- I started my occupation in education in entrepreneurship in 2009 in one school (Moreshet Moshe in Ramat Gan). Since then, dozens of schools have joined in teaching the program every year. This is how I know that the program is a success.

- When customers who have introduced the program in their schools move to another school they often turn to me to introduce the program in the new schools. Tova Goldstein and Shlomit Shigelblat did just that. Returning customers show me that the program is excellent.

- When the same teachers teach the program year after year, that tells it is enjoyable and effective.

- When teachers and principles tell me that students eagerly wait for entrepreneurship classes I realize I've touched the students' hearts, sparked their interest in entrepreneurship, and helped them to express themselves effectively.

- When Itay Shteinberg, who participated in the course as a 5th grader, contacted me 8 years later about an idea he had and asked me to consult I knew that my program meant a great deal to him.

- When Yair Weizenhoiz who learned entrepreneurship as a 3rd grader turned to me 4 years later and told me that he intended to present the project he developed in my program to his 7th grade classmates, and asked me to watch, it was greatly gratifying and provided more proof that the program has a great impact on children.

- When, Hebrew Academy, a private school in the US, which gives its students advanced tools and programs, taught my entrepreneurship program, and the staff professed that it is as an eye-opening program. They asked me to continue teaching the program a year later. The testimony showed me that the program is something different, new, and necessary.

- When, King Solomon, a well-established private school in Israel, that can afford any program they want, taught my entrepreneurship program the teachers were bewildered by it. At that point, I knew my program upheld the highest standards.

- When, Lee Glick, a teacher felt she wasn't progressing with the program modules because students were often having heated discussions about program topics, then I knew that the program was a success. The program raises interest and involvement in the students, which is more important than moving on with the material. Especially when those same students asked the teacher the following year to continue learning entrepreneurship.

- When teachers at A.D Gordon, Ramot Weizmann attended an institutional training about education in entrepreneurship in schools, wrote feedback reports that vouched for the great contribution the course has on personal development and the ability to teach students life skills, I knew that I grant the teachers relevant knowledge and training for our evolving world. I knew that I helped them teach as well as to learn along with their students throughout the entrepreneurship program.

- After children present the projects they have been working on all year and their parents tell me just how much they have learned from the program. This tells me that the values and skill students are learning from the program are valuable and very important.

- When parents write me letters about how much their children learn from the program I know that the program is beneficial.

- When a company in Hong Kong, bought the rights to distribute the program in China and in Hong Kong, and managed to teach students there entrepreneurship classes based on the program I came to understand the program was an international success.

- When more and more schools mark "Global Entrepreneurship Week" with the encouragement and help of the program it is a great satisfaction.

- When students aren't eager to go to recess, but stay in class to ask questions and tell about their ideas for projects it proves that entrepreneurship and the different aspects of it interest them.

- When, Michal Maman, a teacher who taught the entrepreneurship program in one school move to another school and then asked to introduce the program to the new school it indicates that the program is a great success.

- When people from all over the world visit the program website and then show interest in how to implement it in their country, it shows that the program is innovative on an international level.

- When a mother whose son participated in the course in 6th grade, contacted me 8 years later to ask if her daughter, who is in 7th grade could join a framework that taught the entrepreneurship program, I understood that the program left a mark not only on the child but on his family too. This, once again, shows that the program is a success.

- When teachers say that parents call them to find out 'what classes do their children study?', Because the children came home and said that they really enjoyed the entrepreneurship classes.

- When a government representative of India comes to Israel in order to meet with me and explains to me that they want to learn entrepreneurship education from Israel and that he is interested in implementing the EFK program in Indian schools, that is both a feeling of satisfaction and a sense of pride in the country.


Galit Zamler in a lecture to the delegation of educators from developing countries on behalf of the Ministry of Foreign Affairs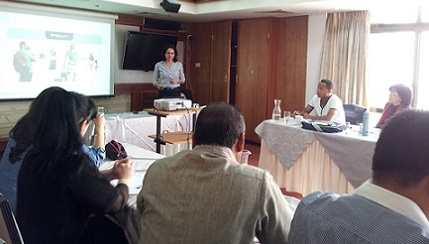 Galit Zamler in a Hackathon for teenagers at school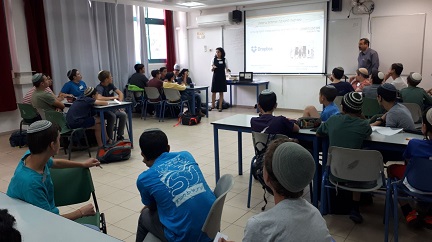 Galit Zamler as guest speaker on a panel of entrepreneurs at the College of Management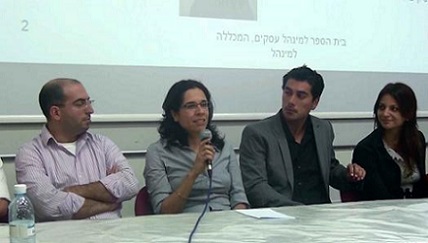 Galit Zamler speaking to a Birthright delegation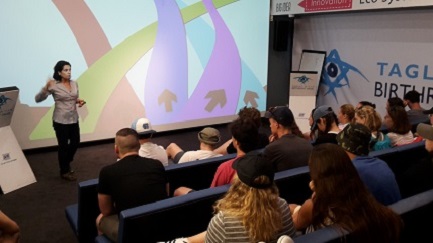 Galit Zamler lectures to teachers in the course "Initiating Teacher" at Wingate College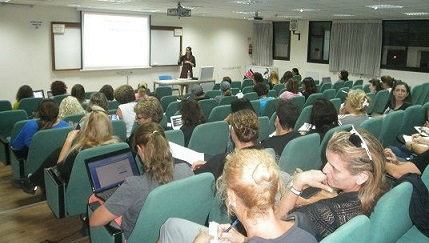 Galit Zamler at a lecture for graduate students at Ruppin College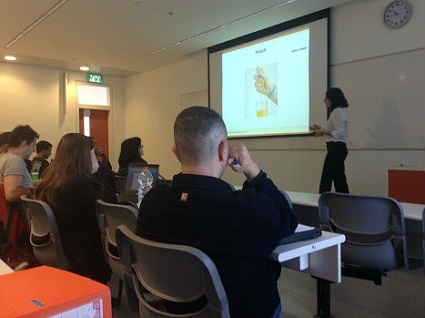 Galit Zamler trains teachers on entrepreneurship education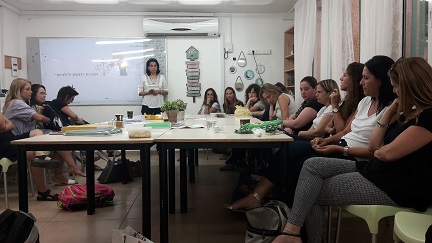 Galit is talking with kids about entrepreneurship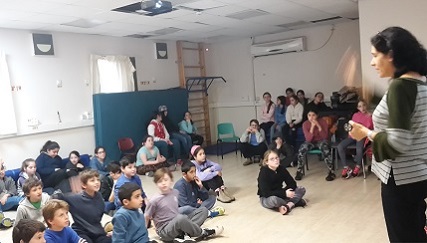 Galit Zamler is leading a workshop for teachers on entrepreneurial and creative thinking.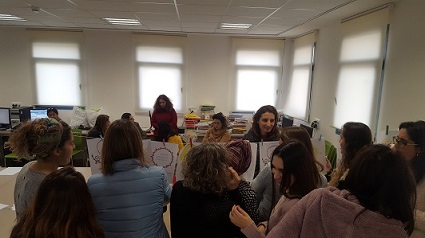 You may contact Galit here.
Entrepreneur skills & entrepreneurship education
top