Global Entrepreneurship Week - GEW 2018

By: Galit Zamler
Global Entrepreneurship Week - GEW 2018


Global Entrepreneurship Week 2018 is held in about 170 countries around the world and in Israel on the third week of November, 11th-18th of November, 2018.

Schools that educate for entrepreneurship, mark this week with encouragement of the Entrepreneurship for Kids Program. During this week, many events are held and young students hear lectures from experienced entrepreneurs, who talk about their path.

Schools celebrate GEW2018:


Alumim junior high school in Ramat HaSharon
Amirim school in Ramat HaSharon
Bachar School in Even Yehuda
Be'eri school in Netanya
De Shalit junior high school in Rehovot
HaDekel school in Karmiel
HaIrisim school in Karmiel
Hayovel school in Ashdod
Hayovel school in Modi'in
North Star School in Ashkelon
Osishkin school in Ramat HaSharon
Rothberg high school in Ramat Hasharon
Sadot school in Pardes Hana
Shimon Peres Education Center in Rosh Ha'ayin
Yad Mordechai school in Bat-Yam


A video summarizing the events of the GEW 2018 in schools:



How do schools participate in Global Entrepreneurship Week?

From year to year, more schools are joined, and the range of activities and events expands accordingly.

Throughout this week, students from grades 1st to 12th participate in lectures, lessons, engaging activities and more, all in order to encourage the younger generation, from all ethnicities, genders and socioeconomic backgrounds, to choose the entrepreneurship route as a path for personal and social development.

Summary of events:

- Lectures from experienced entrepreneurs, who share with the students their own entrepreneurship process: how the idea was born, how the environment reacted to the idea, the obstacles along with the way, the successes, the lessons, future plans, and more.

- Opening and closing ceremonies for the Entrepreneurship week with participation from the students, the municipality's educational system representatives, and school staff.

- School Hackathons.

- Lectures and workshops by volunteers of the first Israeli spacecraft project, SpaceIL.

- Entrepreneurship lessons, some of the Entrepreneurship for Kids Program.

- Students learn of ventures they are interested in and presenting them to the other students.

- Engaging activities on the subject of entrepreneurship.

- Lectures by school graduates who became entrepreneurs.

- Students share their project ideas with friends and receive feedback.

- Students participate in observations around the school, neighborhood, and town in order to identify needs and provide solutions.

Things done in schools participating in Global Entrepreneurship Week 2018:

"Osishkin" Elementary School, Ramat HaSharon

Teacher Miri Molcho leads an entrepreneurship course in the school for students in grades 5th and 6th.

During Entrepreneurship Week, the students of the "Young Entrepreneurs" course for grades 5-6 get to hear a lecture from Ms. Nava Swersky Sofer standing at the head of the Interdisciplinary Center Herzliya's unique entrepreneurship program.

Nava focused on sources for the creation of a project - necessity, constraints, mistakes, ideas and more. She also talked about the reasons for success and failure of projects.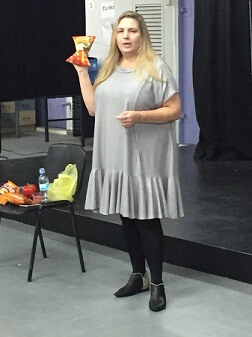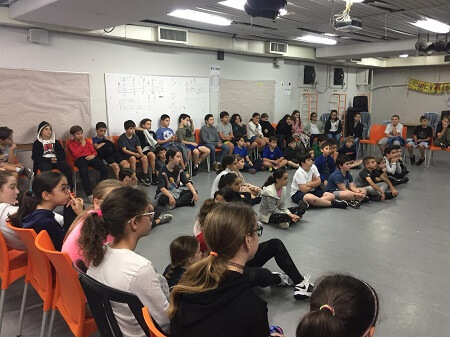 In addition, students went on tours in the city, in order to participate in brainstorming sessions that will help solidify ideas for projects they will develop during the school year.

Amirim Primary School, Ramat HaSharon

"Amirim" elementary school in Ramat HaSharon led by Lilach Hefetz participated in this week for the first time.

The school held 3 hackathons with the theme of social entrepreneurship, and the students listened to a lecture by SpaceIL about the launching of the first Israeli spacecraft to the moon.

The volunteers of "Krembo Wings" told the students about their social project.

"Be'eri" Elementary School, Netanya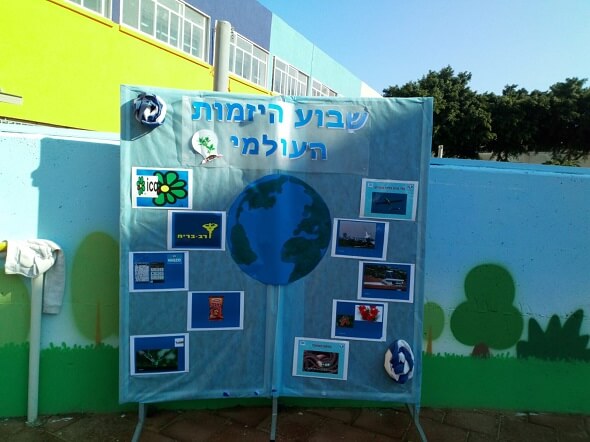 "Be'eri" Elementary School in Netanya, run by Amalia Holbinger, continues to participate in GEW this year as well. This year, entrepreneurs from different fields came to share their knowledge with students, and inspire them.

Entrepreneurship coordinator Anat Elovitch is in charge of the weekly schedule and for inviting the entrepreneurs.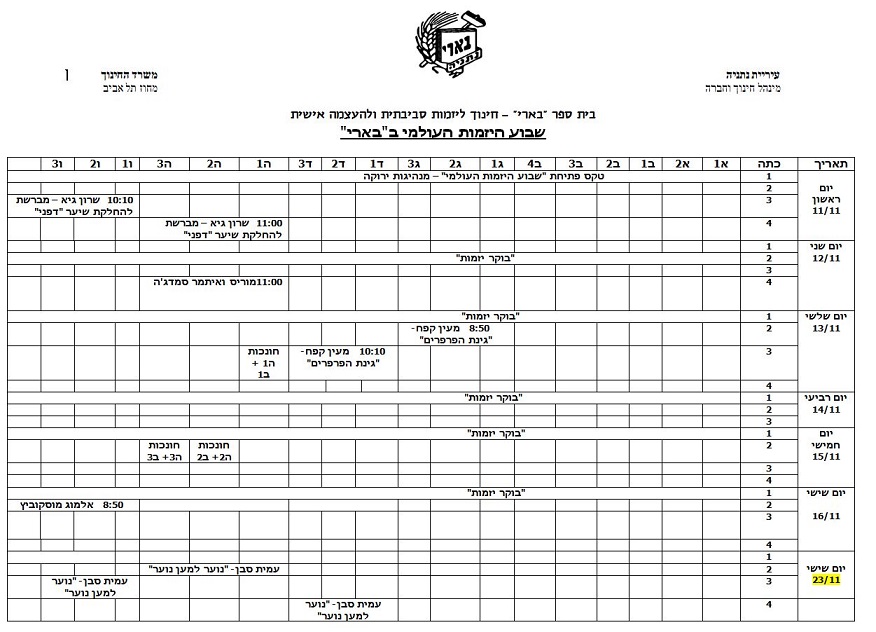 The students opened the week with a ceremony.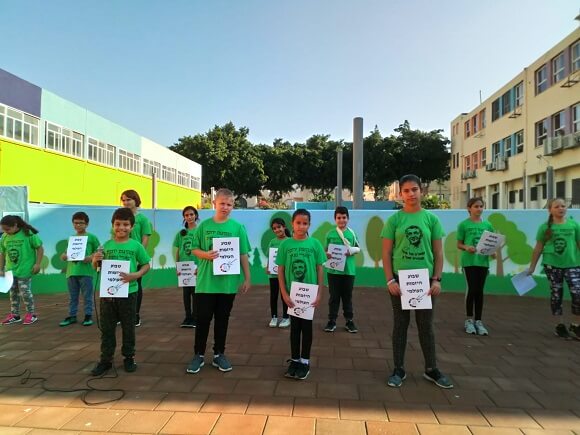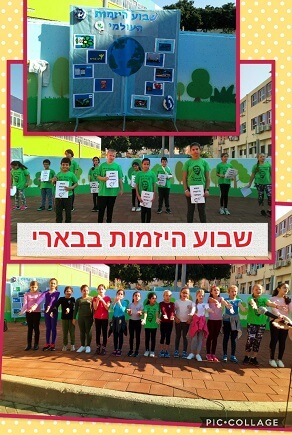 Morris and Itamar Samadja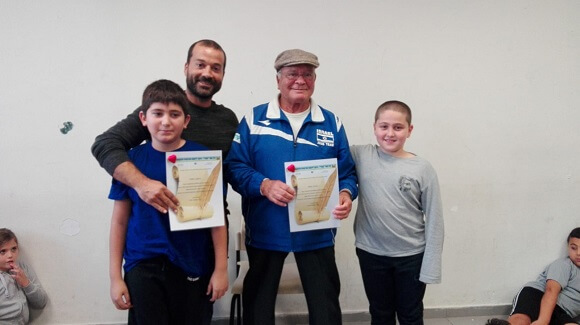 Morris is the entrepreneur who brought Judo to Israel. He trained his children Oren and Itamar who went on to win Olympic medals in Judo, and together they train many children around the country in the martial art.

Like all entrepreneurs who visited Be'eri, Morris and Itamar received merit certificates from the students, for taking the time to inspire them.



Amit Saban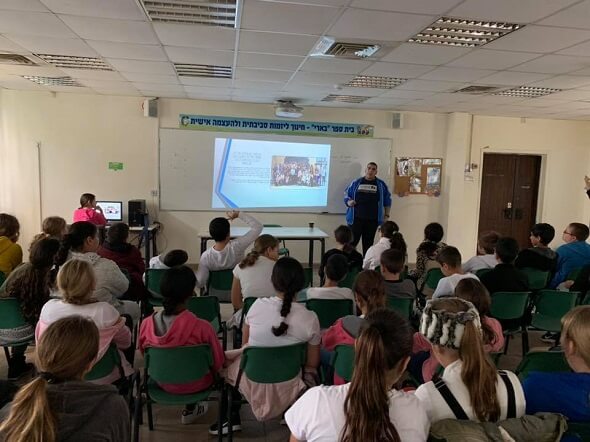 Amit Saban was exposed as a child to the social media shaming phenomenon, and out of this struggle grew a young man who works to fix social injustices, and aids youth with dealing with social boycotts and online harm.

Amit founded the "Youth for Youth" charity and is an activist of the Labor Party.



Maayan Kapach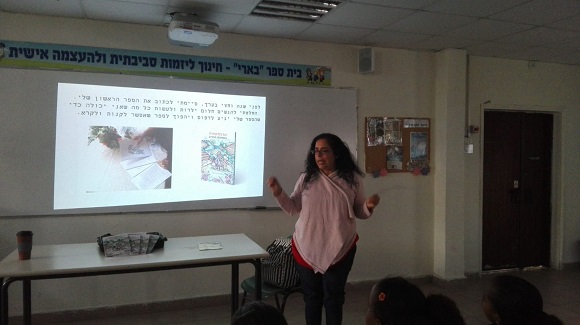 Maayan Kapach came to tell the students about her book "Adventures in the Cauliflower Garden", and the process she went through in order to bring it to print so that everyone can enjoy it.



Sharon Guy-Rabi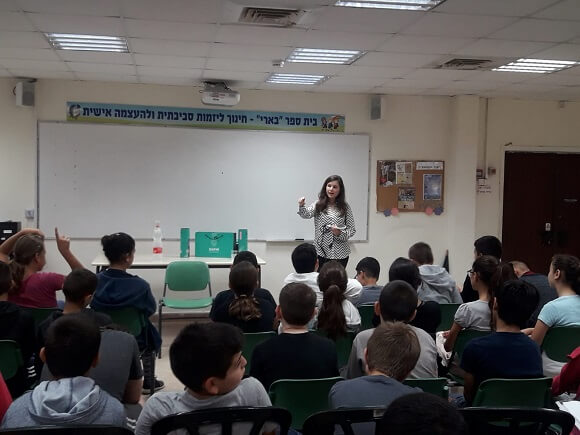 Sharon Guy-Rabi invented the "Dafni" ceramic straightening hairbrush following her own personal need. Her invention was adopted by the Electra Company, who took it upon themselves to market the hairbrush domestically and internationally.

"Bachar" Elementary School, Even-Yehuda

Students at the Bachar School in Even Yehuda under the direction of Eti Hodida heard lectures from guest entrepreneurs, some of them parents of students at the school.

The lecture coordination was done by the school's event coordinator Natalie Samipur.

The students participated in workshops to invent innovative products.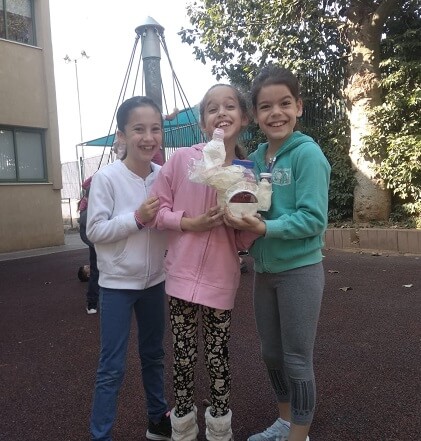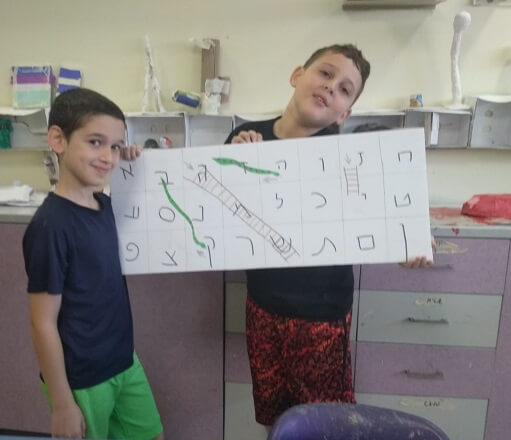 Yael Feder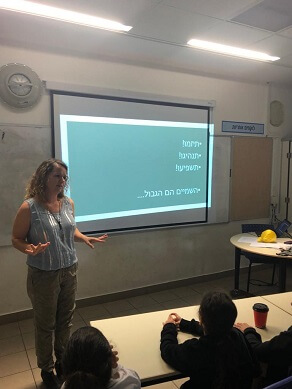 Yael Feder initiated a kindergarten on wheels and told the children about it.

Yael Feder concluded her lecture with the following words: innovate, lead, influence! The sky is the limit.



Galit Zamler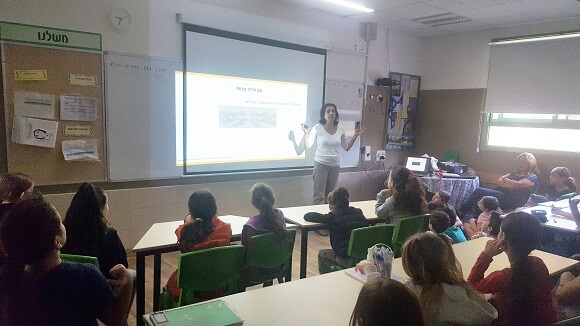 Grade 4 students in Bachar Elementary School participated in a lecture by Galit Zamler on the Entrepreneurship for Kids Program. During the lecture, students got to learn about some of the characteristics of an entrepreneur, as well as about resisting peer pressure, independent thinking, critical thinking and team work.
HaIrisim Elementary School, Karmiel

English teacher Ronni Shtekler leads the Global Entrepreneurship Week in her school "HaIrisim" in Karmiel.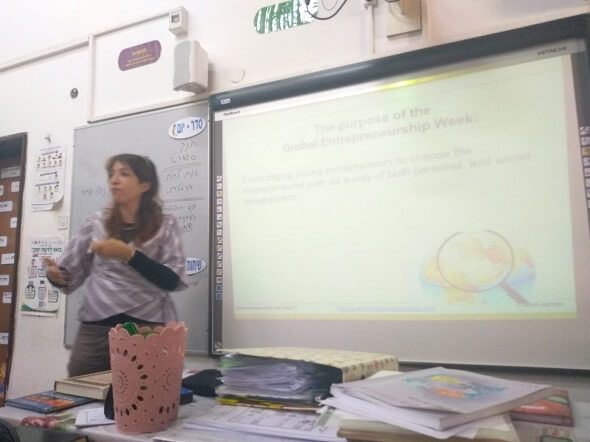 Ronni told students about Global Entrepreneurship Week, about herself as an entrepreneur and developer of an English remedial education kit and gave the students a workshop on creativity from the variety of classes by the EFK program.
The students completed their drawing using their imagination, and the results were surprising.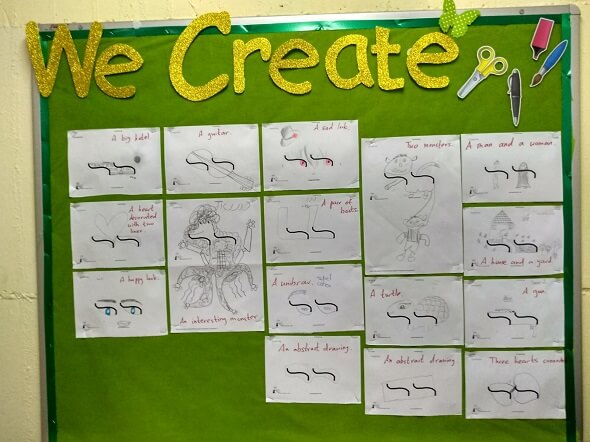 De Shalit junior high school, Rehovot

7th and 8th grade students have entrepreneurship classes for two weeks, conducted by teacher Shai Abramovich and supported by social coordinator Yosefa Solomon.

The students met entrepreneur Zvi Tubul to talk about Artificial Reality.

Zvi is the co-owner the company Tower-Tag.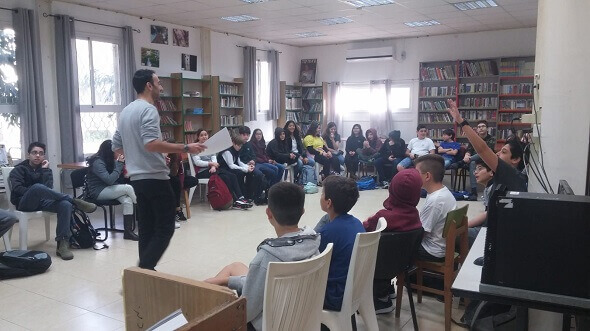 Ha'Dekel Elementary School, Karmiel

Ha'Dekel school in Karmiel, run by Osnat Ben-Yehuda, joined this year for the first time in participating in GEW.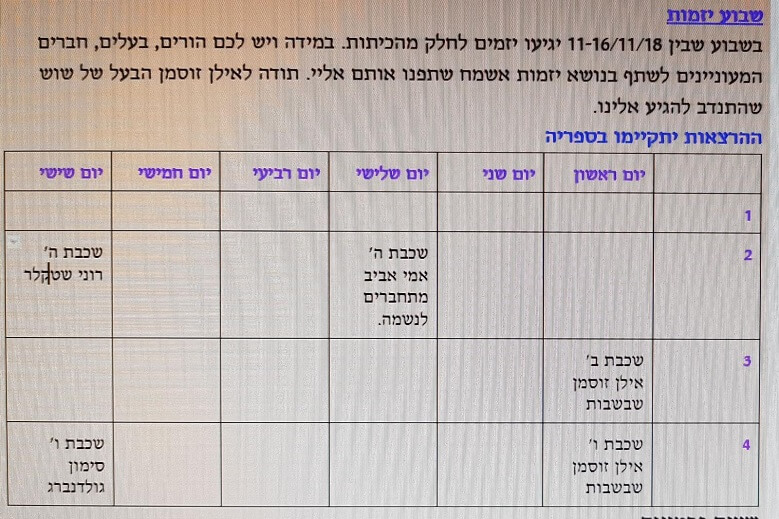 Ilan Zusman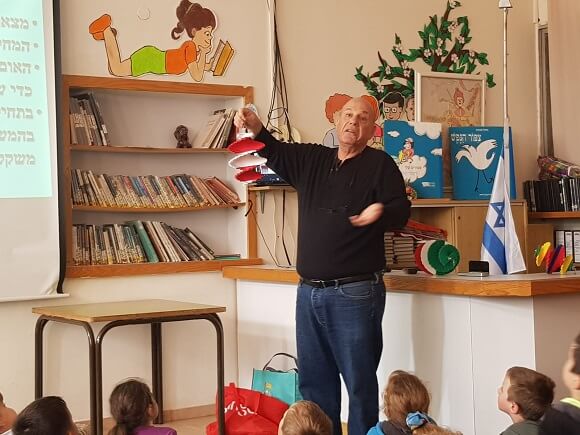 Ilan Zusman lectured to Grade 2 and Grade 6 students about wind vanes.



Ronni Shtekler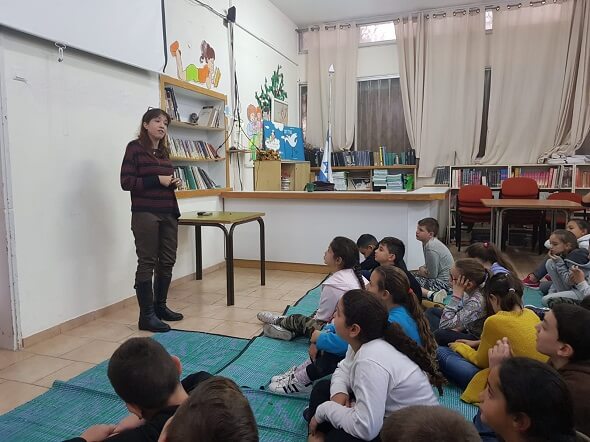 Ronni Shtekler is an English teacher, specializing in remedial and innovative education. Roni combined her experience and skills and developed an English remedial education kit called "Learning English and Remembering". The students heard how this idea was born, as well as the challenges Roni faced and her successes.



Emi Aviv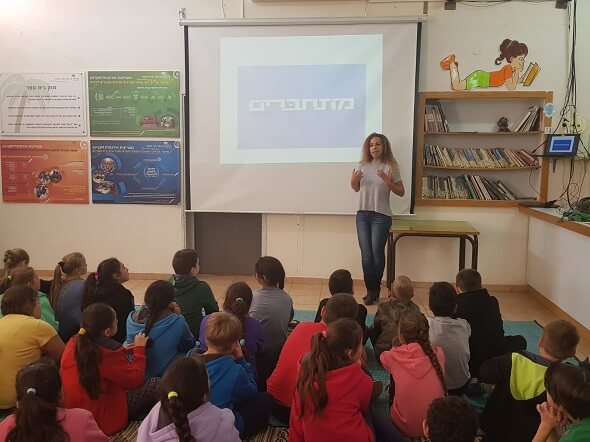 Emi Aviv is a member of the "Connecting to the Soul" organization and presented the social project to the school's students.

"HaYovel" Elementary School, Ashdod

"HaYovel" Elementary School in Ashdod, run by Pnina Weinstein, participated in Global Entrepreneurship Week for a second year now.

The guest entrepreneur lecture schedule was coordinated and organized by teacher Nili Arama.

Galit Zamler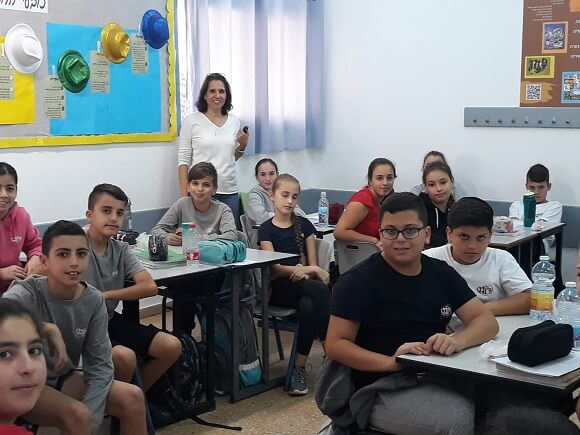 Students of "HaYvel" in Ashdod are part of the EFK program, but only know Galit by name.

Throughout the week, Grade 6 students met with Galit, heard the story of the Entrepreneurship for Kids Program and learned about the difficulties that an entrepreneur faces in the entrepreneurship process, their motivation to find solutions and overcome the difficulties, the importance of team work, and the ability to resist peer pressure.



Shimon Abutbul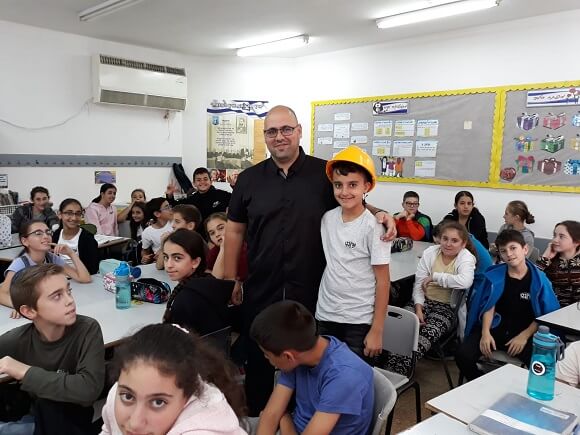 Shimon Abutbul explained his own project - a safety helmet for construction workers.



Young Entrepreneurs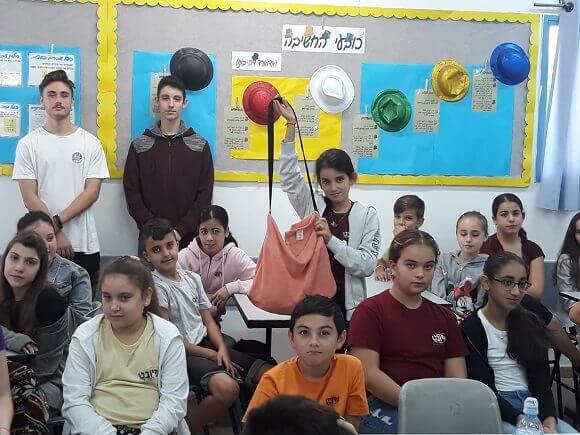 Students who are young entrepreneurs from the Mekif high school in Ashdod presented the students of HaYovel School their invention: TowelBag.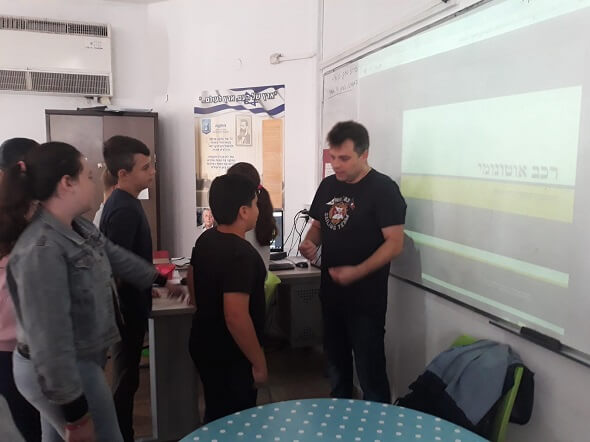 The students of "HaYovel" in Ashdod heard a lecture during the week about autonomous vehicles and their influence on our lives.


Nurit Topaz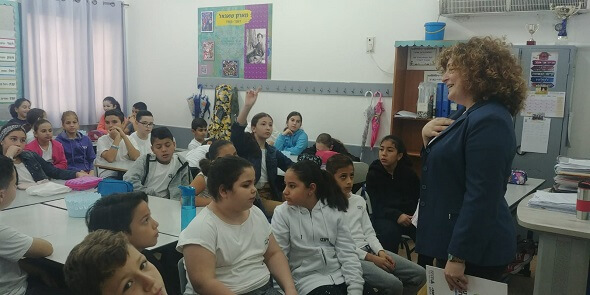 Nurit Topaz, a social entrepreneur in a lecture to students

HaYovel School, Modi'in

HaYovel Elementary School run by Ronit Revizada celebrates this week for the first time this year.

Deputy Director Ofra Almagor Neumann ran the schedule for this week.

During the week, guest lecturers from within and outside the community came to the school and inspired the students. The students presented their work on entrepreneurship in the field of science. The school connected the concept of entrepreneurship to a key figure in Israeli culture - David Ben-Gurion. .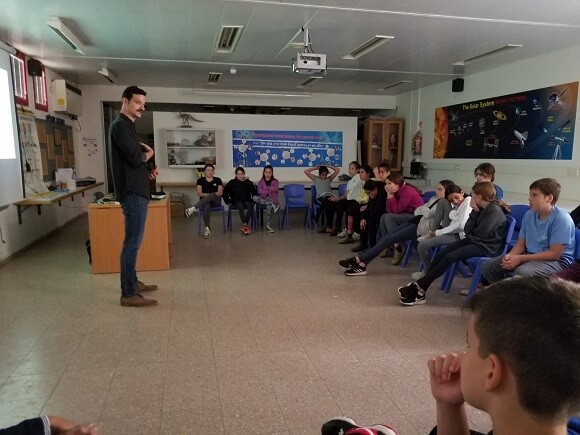 The students heard a lecture on initiatives in space exploration and on an Israeli initiative to simulate life on Mars.



Lena Telman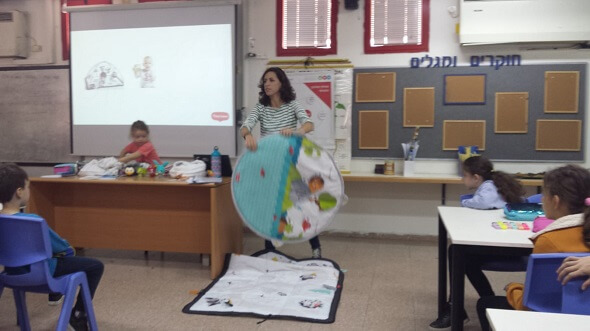 Lena Telman is a toy designer and developer. In a workshop for 2nd grade students, she shared her process and together everyone created the doll Columbus.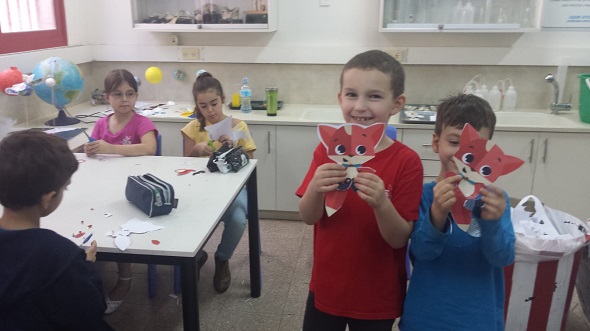 Yad Mordechai school, Bat-Yam

The "Yad Mordechai" school in Bat Yam, led by Avivit Mistriel, marks the GEW every year.

The week is being planned and organized by Orly Maimon, the entrepreneurial coordinator.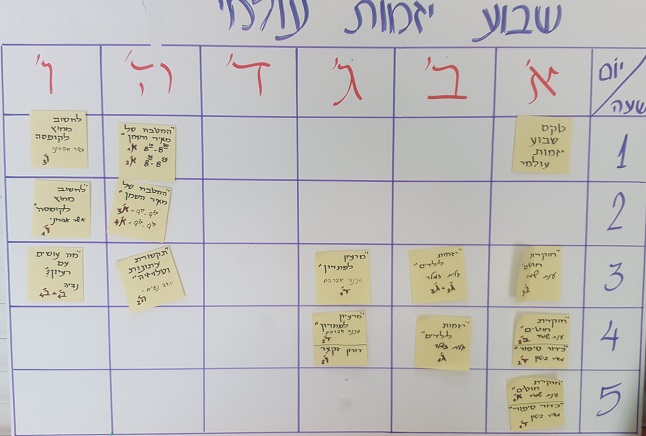 The week began with a ceremony in which the students held a performance and told about inventions and innovation.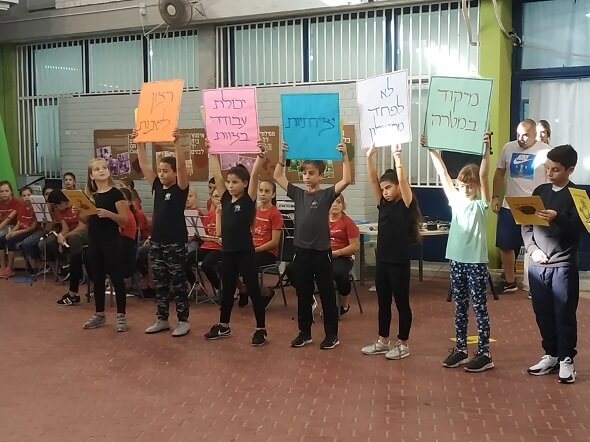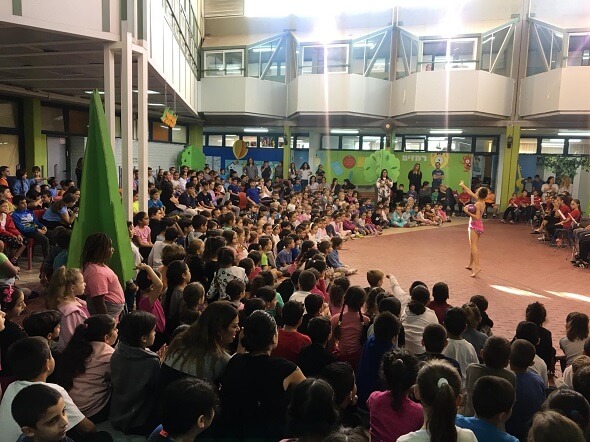 Experienced entrepreneurs came and told students in an experiential way about their projects.

Einat Shamir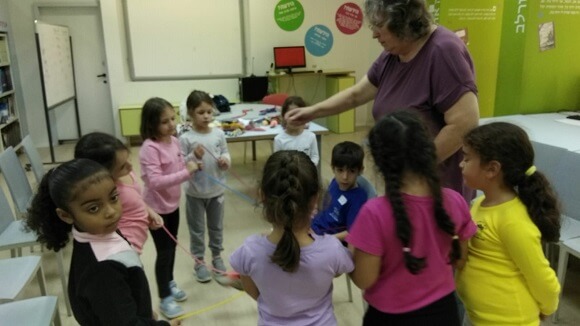 Einat is a string artist and has developed creative kits for all ages. Einat told the first and second graders about her project, and everyone participated in an activity with strings.



Meir Biton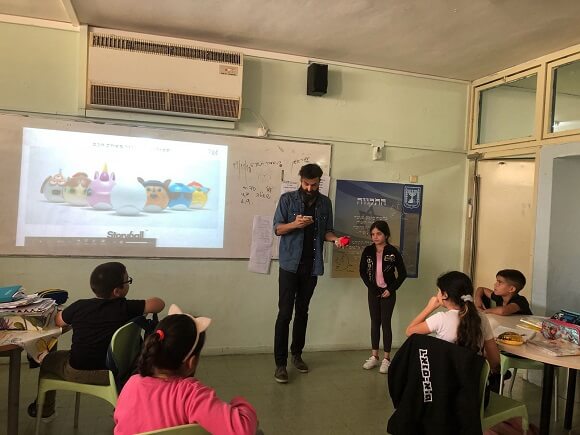 Meir Biton who is behind the "Story Balls" project, presented the unique balls he developed for the students, who then got to play with them and hear the unique sounds they make.



Galit Zamler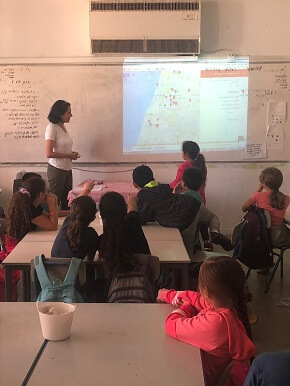 Galit Zamler discussed with Grade 3 students the characteristics of an entrepreneur, told them how the EFK program developed over the years, and the students then played a game which requires coordination, team work, and focus on the goal.



Social Entrpereneur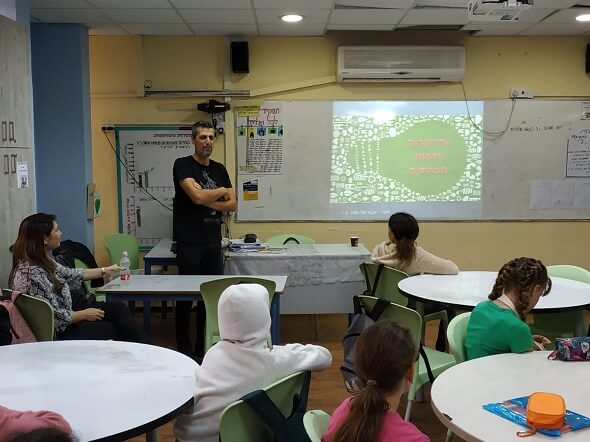 The students heard a lecture about social entrepreneurship and engineering



Fat Meir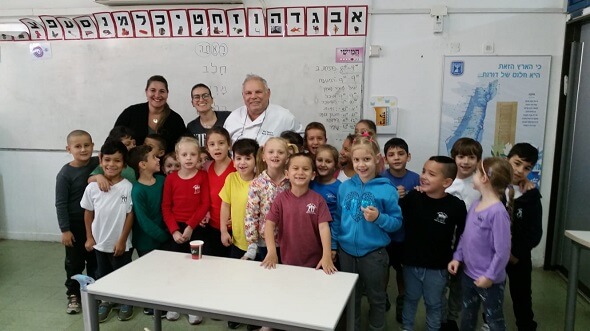 Meir, who founded "Fat Meir's Kitchen", arrives every year to "Yad Mordechai" school and tells the students about the sandwiches he makes in his kitchen and sends to schools for kids who "forgot" to bring a sandwich.



Pnina Avraham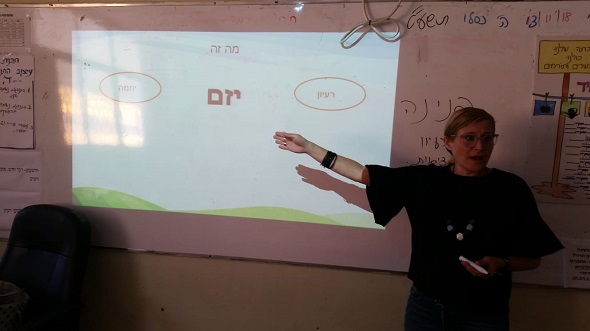 Pnina is the mother of one of the students in the school, and explained in a lecture about the world of entrepreneurship.
"North Star" Elementary School, Ashkelon

"North Star" Elementary School run by Sarry Plum, is participating for the first time this year.

Grades 4-6 students heard lectures from guest entrepreneurs.

Lior Vaknin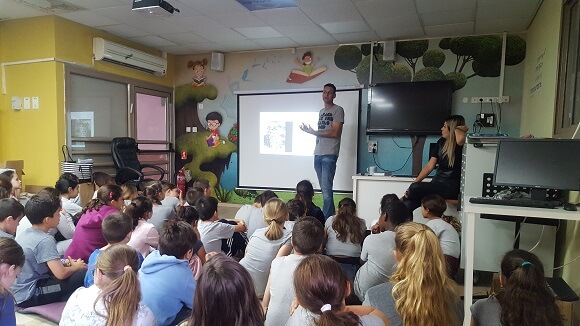 Lior told the students about his love for plants ever since he was a child. When he turned 40, he went back to his first love and together with his children they started growing fruits and vegetables on the roof of their house. The search for ways to grow many plants in small spaces gave birth to the "Havitutim" project - barrels in which you can grow up to 70 plants together.


Galit Zamler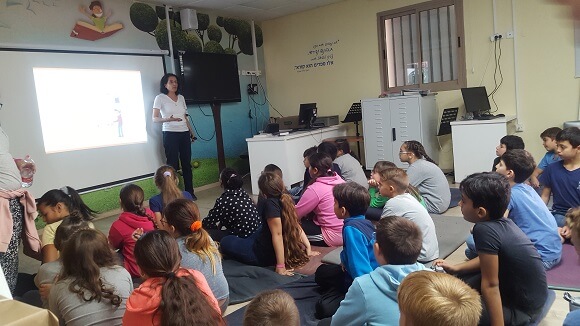 Galit Zamler told the students about the beginning of the Entrepreneurship for Kids Program, the difficulties she faced, how she overcame them, the expansion to many schools around the country, and then to the US, China and Hong Kong.

Alumim junior high school, Ramat HaSharon

Oren Yagev

Oren is one of the founders of the company "One Hour Translations", one of the most successful companies in the field of personal and professional translation. Oren told students about how he and his partners thought of the need for translation services online, and how they started with a small scale version and gradually grew.
Rothberg High School, Ramat HaSharon

This year marks the second time Rothberg High School students take part in Global Entrepreneurship Week, encourages by Galit Zamler.

Roey Hamam is in charge of the lecture schedule and booking the guest lecturers, and is grateful for the guests' willingness to come and speak to the students.

At the entrance to the school, a sign stating the week's events was erected: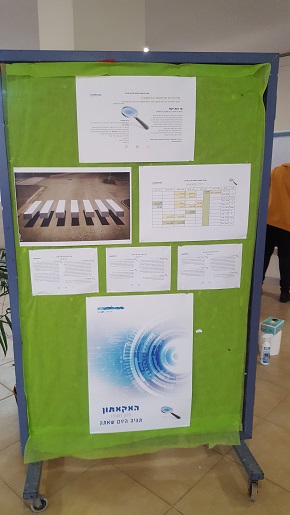 Throughout the week, students got to know what an entrepreneur is, focused on the entrepreneur as an identifier of opportunities, and grades 10-12 students met a number of entrepreneurs foe discussions, inspiration, and acquisition of entrepreneurship tools.

Alongside these encounters, 11th grade students held a Hackathon, which was the first of its kind in the school, at the end of which selected startups will get to compete for prizes in a national startup competition.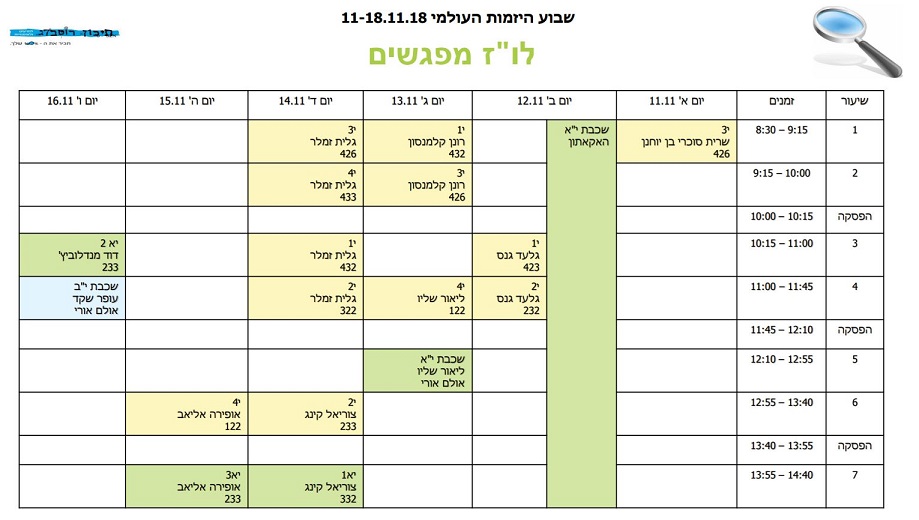 Among the guest entrepreneurs in Rothberg High School:

Zuri King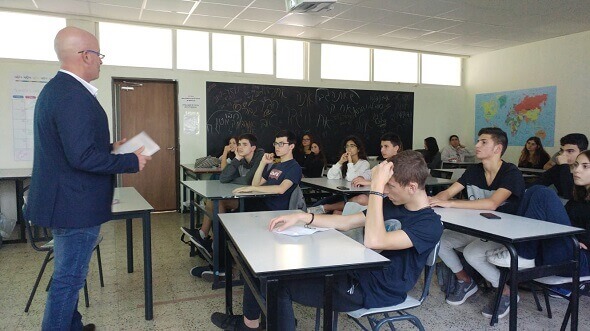 Zuri King, an Israeli pioneer of social innovations, with an emphasis on giving to others, locally and abroad. He recently published the book "From Here, You're On Your Own".



Galit Zamler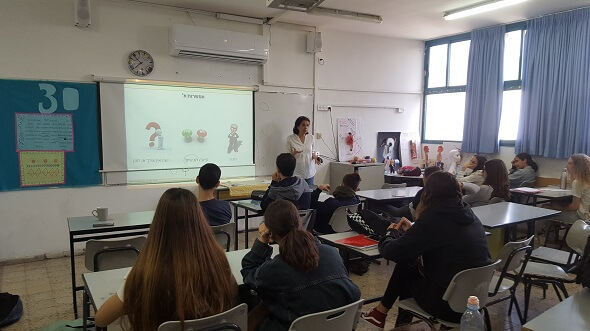 Galit Zamler develops a youth and EFK program that is implemented in dozens of schools in Israel, as well as in the USA, China and Hong Kong. Galit shares in her lecture the challenges of entrepreneurship, as well as the insights from it - anyone can do it, but the risk needs to be calculated.



Sarit Soccary Ben Yochanan


Sarit Soccary Ben Yochanan is a corporate venture capital manager in DelekUS - her lecture dealt with entrepreneurship and funding in the fields Life Sciences and Energy.



Ofer Shaked


Ofer Shaked is one of the founders and the technological manager of SCADAfence. Ofer shared his experience with the students and explained how to start a startup company.



Prof. David Mendelovich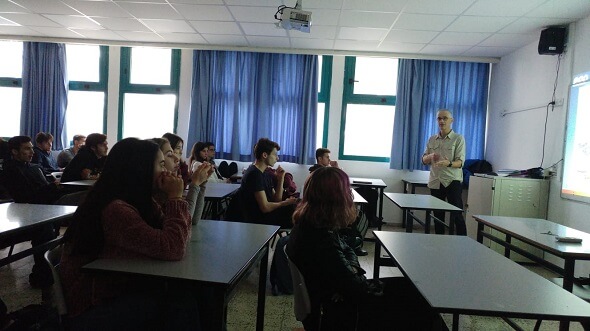 Prof. David Mendelovich spoke to students about the transition from the university's support system to the jungle of entrepreneurship.



Ronen Kalmanson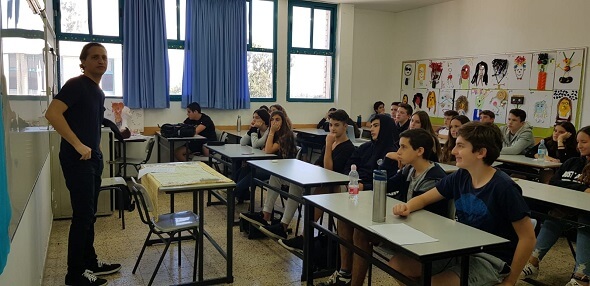 Ronen Kalmanson is an entrepreneur and startup investor. He was a partner in the founding of a number of companies, some of which were sold through exit planning. Ronen shared tips for entrepreneurs based on his vast experience.



Gilad Gans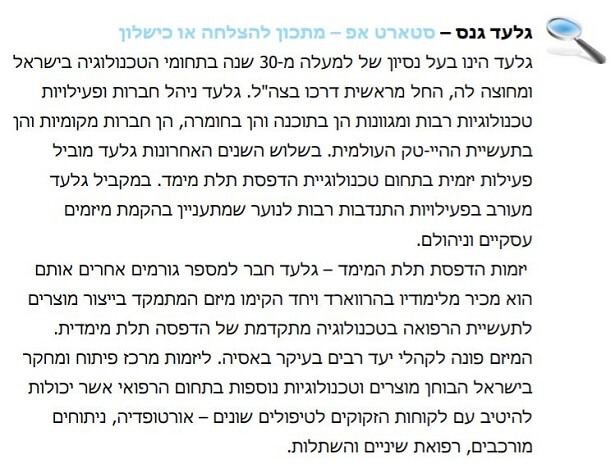 Gilad had upwards of 30 years of experience in various technological fields, activism with youth in the field of entrepreneurship, and entrepreneur consultation. His Lecture dealt with the aspects of failure and success of startup projects.



Ofira Eliav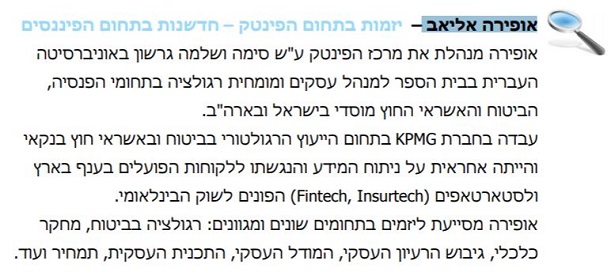 Ofira is the manager of the Fintech center at the Hebrew University. She helps entrepreneurs in various fields through all stages of the process. Ofira shared her experience in the Fintech entrepreneurship and financial innovation fields with the students.



Lior Shalev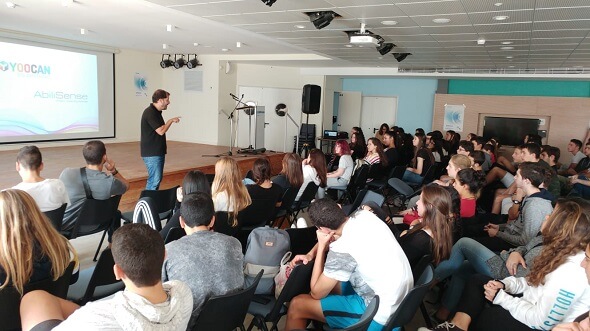 Lior is a social entrepreneur, community founder, founder of SocialTechIL and CEO of Infogan - a social network meant to connect parents and kindergartens, and is a manager in numerous startup companies integrating technology in agriculture and medicine. Lior shares his world view with the students in his lecture "Entrepreneurship - It can be done differently".

Sadot Elementary School, Pardes-Hana Karkur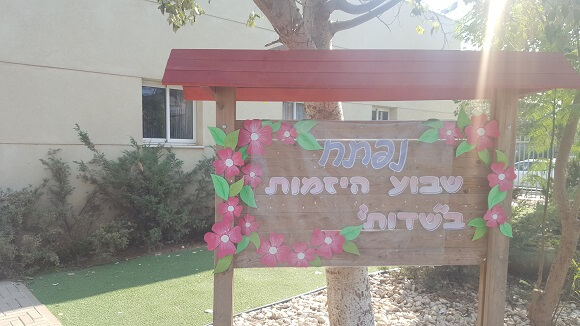 "Sadot" Elementary School principal Talmor Kloss, wrote to the teaching staff in anticipation of Entrepreneurship Week:

"'Sadot' Elementary School has embedded in its foundations uniqueness in the field of entrepreneurship education.

We instill a culture of entrepreneurial thinking that allows for learning that is comprised mainly of value, participation and relevancy, in accordance with the 21st century learner's skills.

We believe that entrepreneurship-based learning allows for breakthrough teaching/learning, improves achievements and leads towards excellence.

Entrepreneurship education encourages positive and independent thinking, recognition of opportunities, belief in yourself and your abilities, determining goals and persisting until they are achieved, taking responsibility, creativity, and more.

Every year in November the "Global Entrepreneurship Week" is held, in which millions across the globe take part.

The goals of Entrepreneurship Week include exposing youth to the idea of entrepreneurship and creating role models from different genders and ethnicities. Entrepreneurship Week invites youth all over the world to incorporate innovation, imagination and creativity into their lives, and provides them with inspiration to "think big", turn ideas into reality, and make a mark.

We are participating in this week for the fifth year! The students will meet entrepreneurs from different fields that will tell their entrepreneurship story. We'll hear about hopes and disappointments, failures and successes, and focus on the characteristics needed for an entrepreneur and how to encourage those in our children.

It will be interesting!"

The schedule, coordination and organization were handled by Liz Drori, entrepreneurship coordinator in the school.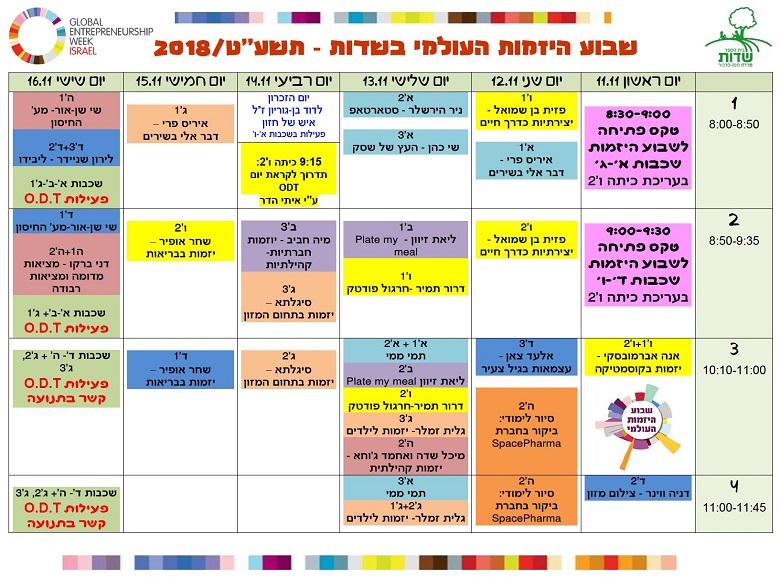 Students from grades 1-3 opened the this week with a school ceremony.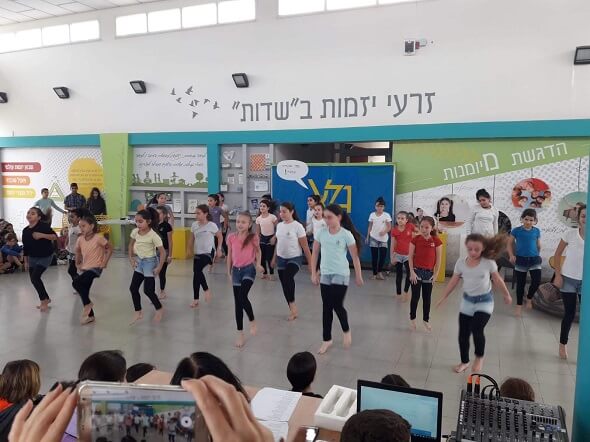 All students will participate in lectures by guest entrepreneurs from various fields, and end the week with an O.D.T activity.

A visit to Space Pharma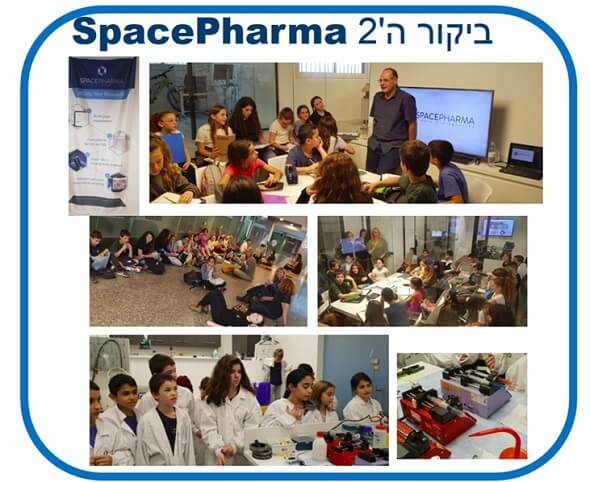 The students of Grade 5 went on a tour of Space Pharma, the Israeli space agency, and learned about new technologies in the space field.



Dror Tamir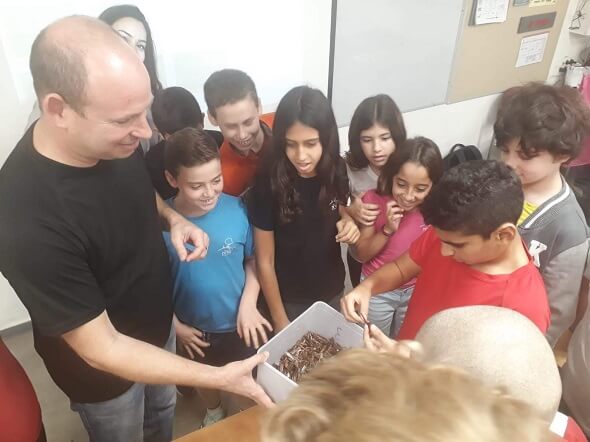 Dror Tamir told students about the Food Tech industry, and how grasshoppers can be a highly nutritious food source. There were some brave students that even tasted some grasshopper.



Elad Tzon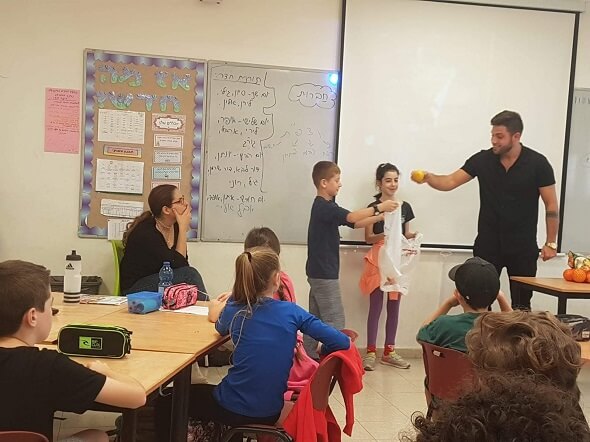 Elad Tzon in a lecture to 4th grade students about independence from a young age.



Dani Barko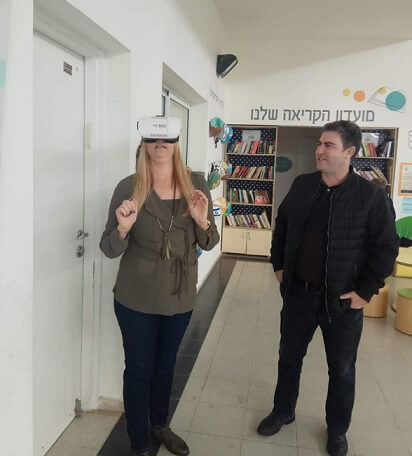 Dani Barko in an engaging lecture on the subject of artificial reality and augmented reality. Even Talmor, the principal, gave it a try.



Liat Zivan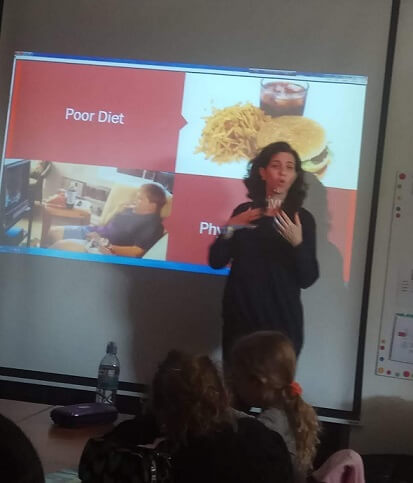 Liat Zivan told the students about a project she leads, cold Plate My Meal, whose goal is to get children used to eating healthy nutritious food and help the, acquire correct eating habits.


Galit Zamler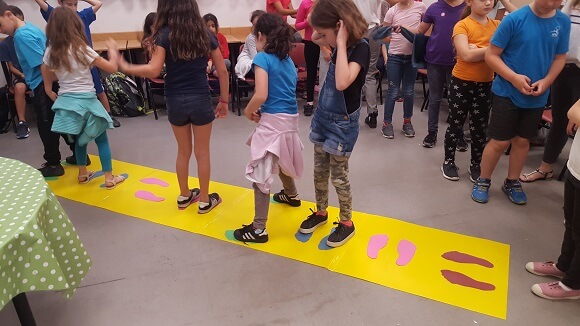 Galit Zamler shared her journey with the EFK program with the students. The lecture included an engaging activity on the subject of teamwork.



Liron Schneider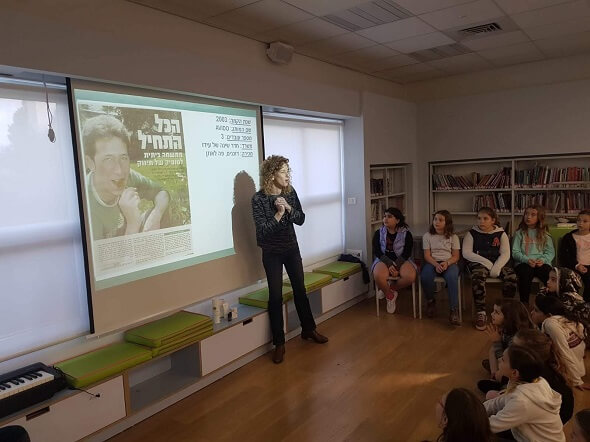 Liron Schneider told students about the natural cosmetics products of the brand Lavido.



Michal Sade and Ahmed Juha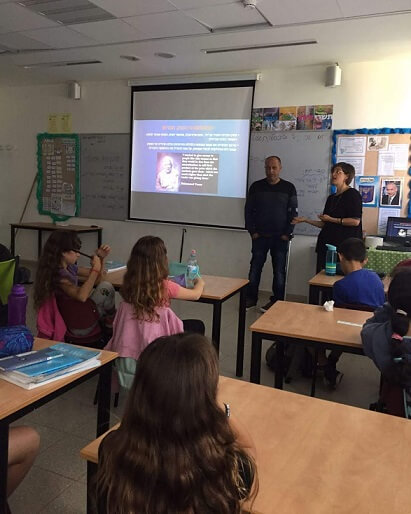 Michal Sade and Ahmed Juha in a lecture to 5th grade students about community entrepreneurship and its meaning.



Pazit Ben Shmuel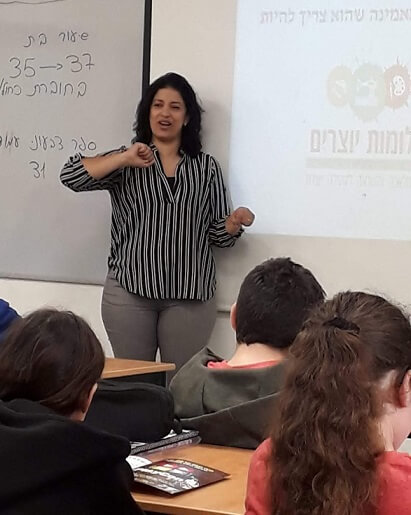 Pazit Ben Shmuel in a lecture to 5th grade students about creativity as a way of life.



Shai Shen-Or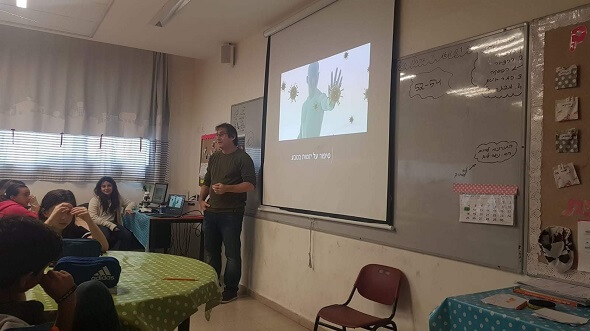 Shai Shen-Or explained the immune system to the students.

top