Global Entrepreneurship Week 2014

By: Galit Zamler
Global Entrepreneurship Week 2014

Global Entrepreneurship Week 2014 was marked by over 140 countries around the world and by Israel between 16-23.11/2014.

GEW 2014 is celebrated in entrepreneurial schools accompanied by the Entrepreneurship for Kids and for Youth Program that encourages entrepreneurial thinking and entrepreneurial skills, through ceremonies, workshops, activities, and lectures by entrepreneurs from various fields.

This year, too, a presentation was made to explain the essence of this week, the events taking place in Israel and around the world, and the part schools take on the week.

These are the schools that participated in GEW 2014 with the encouragement of the EFK Program:

- HaIrisim school in Karmiel

- Yad Mordechai school in Bat Yam

- Noam Mohaliver school in Bnei Brak

- Tze'elon school in Be'er Ya'akov

- Mordei HaGeta'ot school in Ramat Gan

- Kaplan school in Petah Tikva

- Alumot school in Tel Aviv

- HaBiluim school in Ramat Gan

- Arnon school in Ramat Gan

- Aliyot School in Ramat Gan

- HaShalom school in Mevaseret Zion

- Katznelson school in Kfar Sirkin

This presentation describes just a few of the many events that took place during Global Entrepreneurship Week:

The events that took place at Entrepreneurial schools:

Israel's first Hackathon for 4th, 5th and 6th graders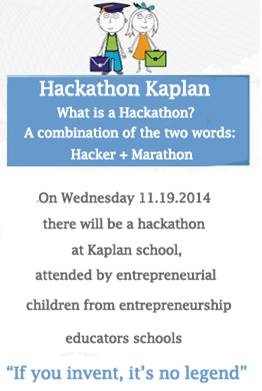 On a separate page, we have elaborated on the Hackathon, which was an empowering event planned with care, and an unforgettable experience for the students who took part, and for those who are eager to continue. Click here to read more about Israel's first Hackathon for young students.
Coffee-Entrepreneur Event for Teachers and Parents at Mordei HaGeta'ot School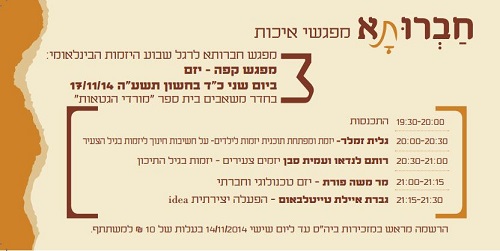 Another unique event that took place during this week was at Mordei HaGeta'ot school in Ramat Gan, managed by Ronni Shasha and her assistant Sagit Tzigler: Coffee-Entrepreneur.

This evening, which was all-entrepreneurial, opened with a lecture by Galit Zamler who talked about the importance of teaching entrepreneurship from a young age and continued with guest entrepreneurs, who shared with teachers and parents the entrepreneurial processes they have been gone through.

The guest entrepreneurs who came to the school were: Moshe Porat, Ayelet Titlebaum, Amit Saban and Rotem Laniado. We have written more about each lecture below.

Some of the entrepreneurs were children: Yair, Shani, and Geffen. They developed a Shirt for any size. The kid entrepreneurs took part in the evening and told the audience about the entrepreneurial process they went through.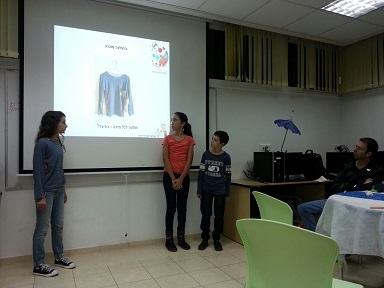 The Coffee-Entrepreneur event took place in addition to many entrepreneurs' lectures, who came to the school and spoke to students about their experiences.

Also, every day of the week opened with the classes watching a film clip, hearing a song, or listening to a story relating to entrepreneurship and expanding the topic.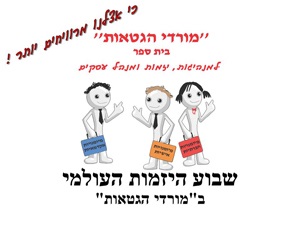 Opening Global Entrepreneurship Week

Global Entrepreneurship Week began at some schools with ceremonies and a festive celebration, including at Tze'elon school in Be'er Ya'akov.

This is the invitation to the ceremony: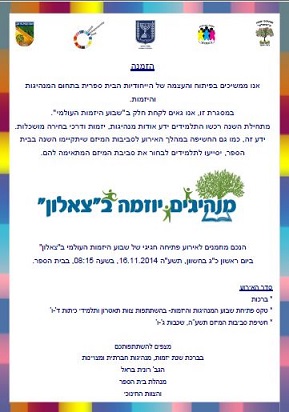 During the event, students at Tze'elon school were exposed to different areas of entrepreneurship, and at the end, each student chose their favorite area, which they will specialize in during the school year.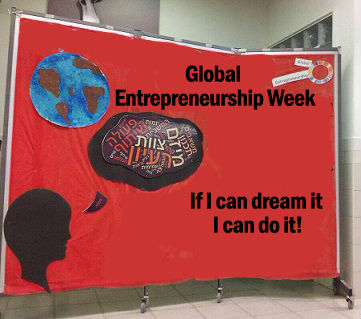 First Year Celebrating Global Entrepreneurship Week



Aliyot school in Ramat Gan, run by Tova Goldstein, joined the entrepreneurial schools this year, encouraged by the Entrepreneurship for Kids Program.

During Global Entrepreneurship Week 2014 the school held entrepreneurship lessons for 4th graders, led by Levana Greenfeld. During the lessons, students came up with ideas for projects, which they wrote on light bulbs and gathered on a board in the 4th-grade lobby. The board aroused much interest in the school.
During the week, students also met with Sivan from the SpaceIL team, who told them about the Israel spaceship that will land on the moon. They also met with the young entrepreneurs from Mordei HaGeta'ot school in Ramat Gan, who developed A shirt for any size. Yair, Shani, and Gefen came to Aliyot school and spoke to the entrepreneurial students about how they thought of the idea for the project, the stages in the process of making it a reality, and their experiences during the process.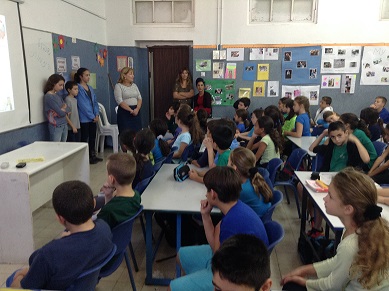 The 4th graders at the Aliyot school asked the entrepreneurs some questions:

-Have you thought that it's also possible to make the shirt longer?

-Is the shirt already available for sale?

-Do you intend to sell the shirt in stores?

-How much will the shirt cost in stores?

-Will the shirt be available in additional colors?

-Did you enjoy designing and sewing the shirt?

-How can I get in contact with you?

-Did you have any hardships during the process?

-Were there any arguments between you?

-Are you happy with the final result?

-How did you all meet to create this team? You're from different grades.

-How long did it take to make the shirt?

The shirt project inspired a student from Aliyot, and she came up with an idea for a phone cover that adjusts its size and shape to the size and shape of cell phones.

A summary of the events of that week at Aliyot school was written on this page that was sent to the parents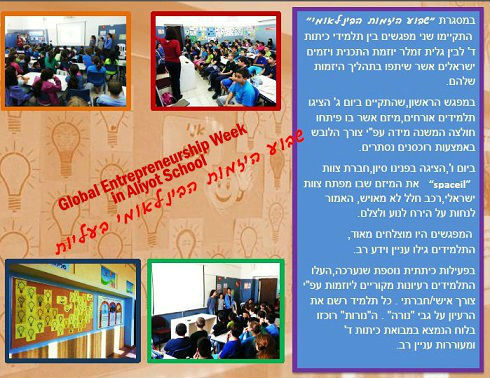 First Year Celebrating Global Entrepreneurship Week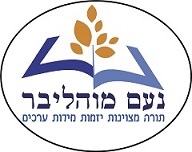 This year, the religious public school Noam Mohaliver in Bnei Brak, run by Dvorah Bar-On, joined the entrepreneurial schools celebrating GEW.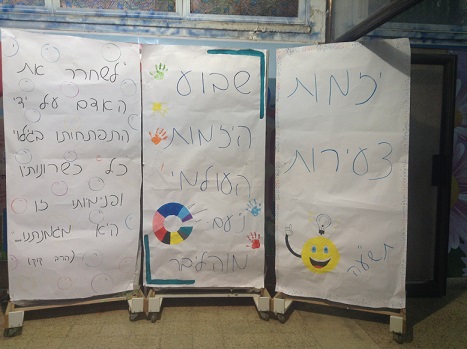 The excitement among the staff and students was great, and entrepreneurs from different fields were invited to share their knowledge and experience with the students.

This is the schedule for GEW 2014 at Noam Mohaliver school: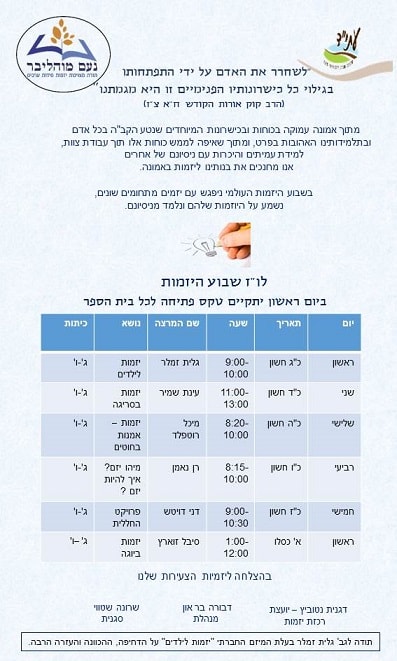 All the students attended a school event marking this week, during which balloons were flown to symbolize, on one hand, that the sky is the limit, and on the other hand the thread connects to reality and action.

This is a photo of the balloons being released by the students at Mohaliver school in Bnei Brak.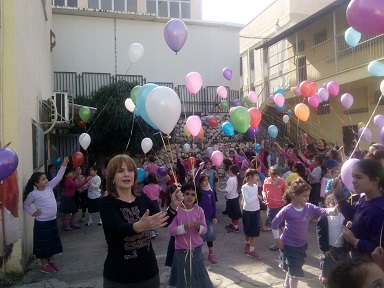 Global Entrepreneurship Week Closing Ceremony and Starting a New Project

Kaplan school in Petah Tikva was the first school in Israel to take part in Global Entrepreneurship Week in 2010, and it has since become a tradition.

During this week many entrepreneurs came to Kaplan school and shared their experiences with the students. In addition, the school's staff ran various workshops and activities, all related to self-empowerment and entrepreneurship.

The week wrapped up with a school-wide ceremony and the parents, neighbors of the school, and educators in the city were invited.

At the end of the ceremony, 6th-grade students began a unique project for the Schneider Children's Hospital. Read about the project Happy is Healthy.
All of the events at Kaplan school were written in the booklet that was made especially for the week.

This presentation summarizes the events at Kaplan school:

Guest Entrepreneurs Share Their Experience with Students

Many guest entrepreneurs responded to the request ofEntrepreneurship for Kids Program's to lecture school children and tell their stories as entrepreneurs, share insights from their experience and give tips for success.

These are the entrepreneurs:

SpaceIL Spaceship Project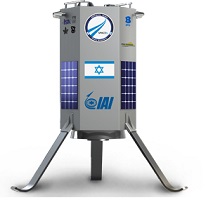 This is the second year that the leaders of the Israeli spaceship project collaborating with the EFK Program. They came to schools that are implementing the program and told about the spacecraft project, the goal of engaging students in the moon landing dream, and the desire to make kids want to specialize in science and space research.

This year, volunteers from the first Israeli spacecraft to land on the moon came to the following schools: Tze'elon in Be'er Ya'akov, HaBiluim in Ramat Gan, Noam Mohaliver in Bnei Brak, Arnon, Aliyot and Mordei HaGeta'ot in Ramat Gan.

You are invited to visit the SpaceIL website and follow the spaceship's progress.

Here is a photo of Sivan Yitzhak, a volunteer from the spaceship project, during her lecture to 4th graders at Mordei HaGeta'ot school.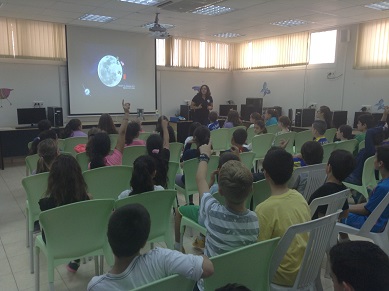 The students were very interested in the lecture and asked many questions, which made clear that they found science and space study important:

-Is it possible to walk on the moon?

-Is the United States flag still there?

-Is it possible to return from the moon?

-What does 'unmanned' mean?

-Is there sunlight on the moon?

-Why will the SpaceIL ship be unmanned?

-What happens when a spaceship explodes?

-Why won't the ship you build return to earth?

-If the ship could return to earth, would it possibly fall on someone?

-Could there be life in space?

-How will the pictures be taken by the ship get to earth?

-How long can a human be in space?

-Won't there be dust in the pictures? Because there is dust on the moon.

-Why is there a Bezeq logo on the SpaceIL ship?

-Will the spaceship look like the model we saw?

-How will the camera on the spaceship not be ruined?

-If an astronaut on the moon jumped very high, could he come back down to the moon?

-Is Neil Armstrong still alive?

-How would you win the Google contest?

-What causes companies to lose the Google contest?

-If a country beats us, will we continue trying to get the ship to the moon?

-Is the SpaceIL ship ready?

-What happens if no one can successfully land on the moon?

-How long does it take to build a spaceship?

-Are there contestants whose ship is already complete?

During the lectures, the students were asked: If you were flying to the moon, what would you take with you?

They answered that they would take: food, a camera, depends on how long, an iPhone, 50 blankets, a TV, their friends, the house, and oxygen.

This is a summarizing email written by Sarit Alfital, a teacher from Mordei HaGeta'ot school after the lecture:

On Friday, 4th graders gathered to hear a lecture on the spaceship project. From the start, the lecturer successfully drew the students in. They showed great interest, participated in the discussion, asked intelligent questions and, most of all; they were excited by the movie clips and the slide show that illustrated the topic. At the end of the lecture, after time for questions, many of the students still came up to the lecturer to ask further questions. The lecturer was very patient and answered every question.

When I began teaching, some of the students said the lecture was very interesting, and some even said they wanted to go to the moon.

There is no doubt that lectures such as this one expose the students to various topics and enrich their lives, and the message conveyed to the students is priceless. Well done!

Danny Deutsch, another SpaceIL project's volunteer, came to the Noam Mohaliver school in Bnei Brak, and told 3rd-6th graders about the vision to land the first Israeli spaceship on the moon.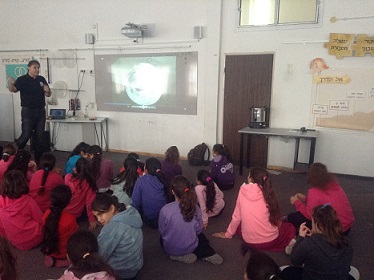 The students at Noam Mohaliver School also showed a keen interest in the lecture and asked many questions. Some even stayed during their recess to ask Danny questions that they did not get to ask during the meeting.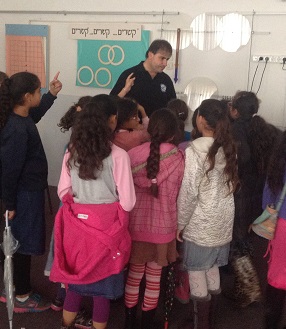 These are some of the questions asked:

-Are you currently in the process of building the ship?

-How long does it take to reach the moon?

-Have Israelis already been on the moon?

-How does the astronaut carry such a large weight?

-How does the astronaut stay alive on the moon?

-When will you finish building the spaceship?

-How is a satellite launched?

-Why aren't you building a manned ship?

-Why is it more profitable to launch the spacecraft with a different missile?

-How will the spaceship land on the moon? It arrives very fast, won't it crash?

-What is the difference between an astronaut and an astronomer?

-What happens if the spaceship runs out of fuel before reaching the moon?

-What is a satellite?

-When the ship is launched, and parts fall from the missile, do they fall on the earth?

-Why do you want to land on the moon and not on the sun?

-Why does the astronaut jump on the moon instead of walking?

-Where do astronauts go other than the moon?

-Were people who had been on the Moon back to Earth?

-How is it that there is gravity in the earth and in space there is not?

The girls summarized the lecture on the spaceship project, saying, It was very fun- good luck!

In the photo: Arnon school students during Noa Katanov's lecture about the spaceship project.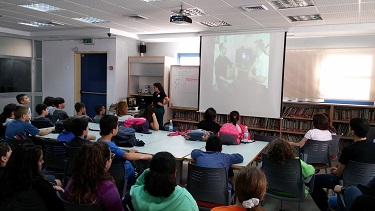 Guest Entrepreneur: Ronni Shtekler - Learn English and Remember Founder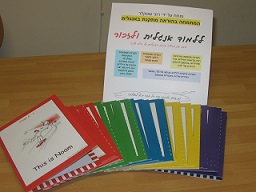 Ronni Shtekler, English teacher and coordinator at the HaIrisim school in Karmiel, has been exposing her students to entrepreneurship for a few years as part of Global Entrepreneurship Week.

This year, Ronni decided to teach 6th grades the module: Entrepreneurship: anyone can do it, from among the materials in the Entrepreneurship for Kids Program.

Ronni is also an entrepreneur: She conceived, developed and now markets and sells a kit for English teaching named Learn English and Remember. This is Ronni 's personal connection to entrepreneurship.
Ronni wrote her thoughts on the lesson she taught her students. Read about it here.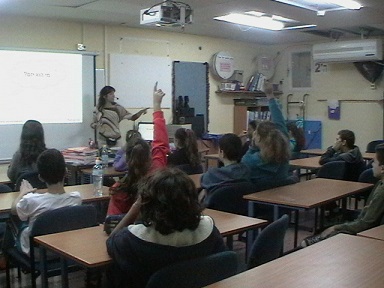 Guest Entrepreneur: Sibel Zuaretz - Founder of Yoga Flowers for Children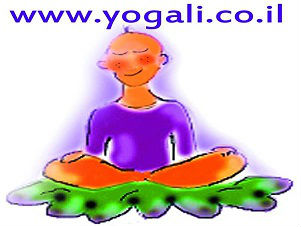 Sibel has a special connection to the EFK Program, and after discovering a beautiful woman, we haven't let her go, and invite her to be a guest lecturer every year during GEW.

The story of Sibel's project is extraordinary - as a girl, she didn't like to exercise and suffered from various illnesses and aches. Then she discovered yoga, learned about it, saw that yoga helped her, and became a yoga instructor. Due to its benefit to children, parents asked for children's lessons, and so the business grew.

Today, Yoga Flowers offers yoga classes and workshops for children and families.

This year, Sibel was invited to lecture at the Noam Mohaliver school in Bnei Brak.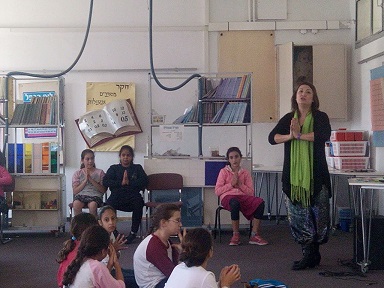 Sibel told the students about the new Mandala kit she created, saying, when the kit arrives at home, it allows me to expand my influence, and to reach more children and families without seeing them physically.

Nurse clinics use the kit to develop conversations with young patients and new mothers, and use it to teach their children about the world of Mandalas.

An example of an incredible Mandala: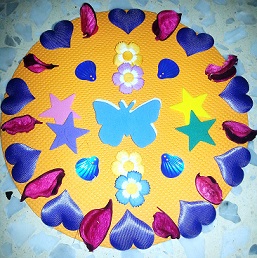 At the end of the lecture Dvorah Bar-On, the school's principal, wrote: It was wonderful. She is an engaging woman.

Guest Entrepreneur: Ronit Meiri - "Yes, You Can" Founder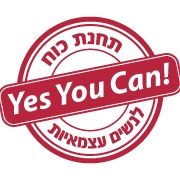 Ronit is a personal trainer for achieving goals, empowerment, and self-image.

Ronit strengthens and teaches people to believe in themselves and their abilities, and to connect to the skills that can help them.

As a guest lecturer at Kaplan school in Petah Tikva, Ronit showed the students a lesson that she gives annually at her daughter's school during a day called Calm Day. The lesson is about vision boards, individuality, good deeds and more.

Ronit's business page is on Facebook: Ronit Meiri- Yes You Can.



Here is a photo from Ronit's lecture.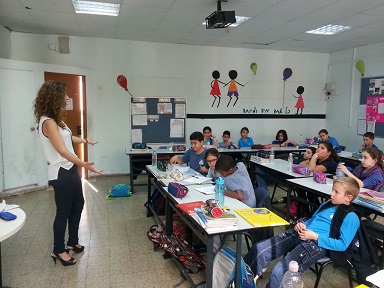 Guest Entrepreneur: Ran Ne'eman - High-tech entrepreneur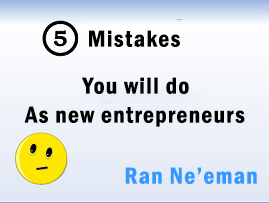 Ran has 20 years of high-tech experience in various companies and startups.

Ran is a co-founder of Accells, a company that developed a system for confirming user identity using a cell phone. The system that Accells developed is used to increase safety on the network websites, remote access systems, and cash registers. The company was sold to Ping Identity in 2013.

Today Ran manages identity, maintenance, and mobile products at Ping Identity.

Ran has been taking part in Global Entrepreneurship Week as a guest lecturer for some years. This year, Ran lectured at the Noam Mohaliver school in Bnei Brak and Kaplan school in Petah Tikva.

His lecture was: Mistakes you'll make as entrepreneurs. A review of lessons learned while developing a project, adapted for children.

Guest Entrepreneur: Moshe Porat - Social and Technological Entrepreneur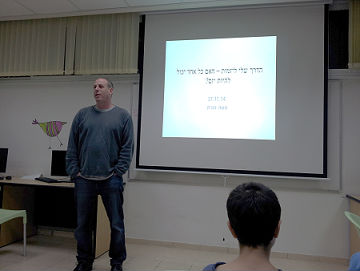 Moshe has been founding and developing technology companies in the fields of medicine, Cleantech and IT for over ten years.

Moshe owns four companies, and in the last five years, he has been promoting a social project as well. His work includes: board member at Presentense, promoting technological education, work during your 40s, women entrepreneurship, and more.

Moshe founded MESH - a place for entrepreneurs and companies in Modi'in, in order to promote the city as a high-tech city.


Moshe lectured in front of parents and students at the Mordei HaGeta'ot school in Ramat Gan, as part of the Coffee-Entrepreneur event.

Guest Entrepreneur: Rotem Linado - Young Technological Entrepreneur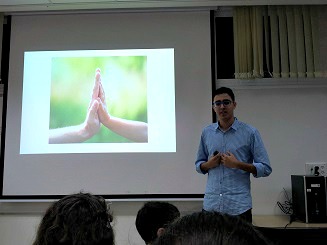 Rotem, a high school student, developed an entrepreneurial center at his Ramat HaSharon school, called Together.

The center is a place for students and teens to promote project ideas through the promotion of the school's unique subjects.

Rotem's project gained the support of the school's principal and the Municipal Education Division.



Rotem spoke to parents and teachers at the Mordei HaGeta'ot school in Ramat Gan during the Coffee-Entrepreneur event. Rotem told the audience how, unlike the Mordei HaGeta'ot school, which teaches leadership, entrepreneurship and business management, his school did not encourage entrepreneurship. However, before 9th grade, he began attending entrepreneurial conferences and met friends from other cities.

Rotem spoke about how he combines his studies with entrepreneurship. Whenever I learned something new in school, I took it to the world of entrepreneurship. This is how, for example, we developed a guitar combined with an iPad.

When Rotem arrived at the Alon high school in Ramat HaSharon, he checked which of his friends were interested in entrepreneurship, and thus developed the entrepreneurship center at the school.

The group he founded met with the school's principal in a meeting which Rotem describes as interesting, since each student shared his ideas.

The principal, who supported the idea, arranged a meeting with the mayor of Ramat HaSharon, after which another meeting was held with the education department, who told Rotem it was a matter of time before there would be a final exam in entrepreneurship.

Rotem wrapped up his lecture saying, It's important for me to explain how much we were appreciated at school, and that they found our start-up interesting, which made us love school even more.

Read more about Rotem's project on our page: Kids initiate.
Guest Entrepreneur: Amit Saban - Young Technological Entrepreneur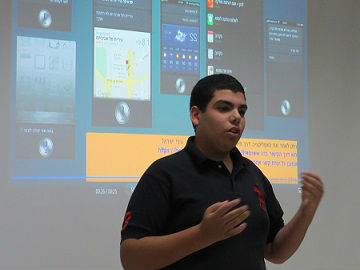 Amit was a guest lecturer at the Mordei HaGeta'ot school in Ramat Gan, and gave his lecture during the Coffee-Entrepreneur event for parents.

Amit tells about himself:

I am 15 years and 9 months old, in 10th grade and study at Shfayim.

In addition, I am in my second year at Tel Aviv University's gifted youth program.

Lately, I have developed an application that will help teens and the whole public to be exposed to the topic of the Holocaust.

The goal of the application is to provide a platform for Holocaust survivors and to allow their stories to live many years after their death.

I am also a partner in Apple's Siri program and my goal is to make it speak Hebrew.

A few sentences that describe me:

If you will it, it is not a dream. A sentence once said by Herzl, and one with which I certainly agree.

The sky is the limit to success.

We don't need to give up on our dreams and projects in life, because almost anything is achievable as long as you have a goal, motivation, and will.

Guest Entrepreneur: Ayelet Titelbaum - founder and CEO of the educational project Idea - creative activities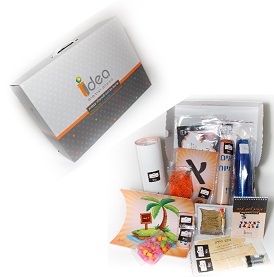 Ayelet took part in Global Entrepreneurship Week 2014, giving a lecture to parents during the Coffee-Entrepreneur event at the Mordei HaGeta'ot school in Ramat Gan.

Ayelet tells her story as an entrepreneur:

I live in Gadera, and I am married with three kids, Maya, Amit, and Tamar.

For many years, I worked in instruction: as a trainer, a teacher, managing trainers, and as a project and development manager at Eshkolot Hashiva.

I have been writing and developing training programs and training aids for many years, and I finally decided to develop a product for myself.

Today I'm a training developer and a mentor for training teams. I hold a master's degree in education, a teaching certificate and a diploma for group training.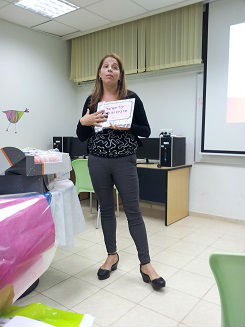 How did it all begin?

Before my middle daughter's 6th birthday, I decided that I would organize and operate the party myself, using training kits for activities.

A creative kit that contains quality, unique and challenging materials that lead to an exciting experience, built upon the belief that anyone can lead activities on their own!

Ayelet brought three kits intended for different groups:
-A kit for teachers
-A kit for birthdays
-A kit for trips

Watch Ayelet's presentation on the project Idea - creative activities:

Guest Entrepreneur: Niv Kalderon - Technological Entrepreneur, Digital Marketing Consultant, and Lecturer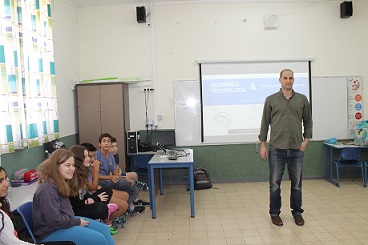 Niv, a guest lecturer at the Mordei HaGeta'ot school in Ramat Gan, gave a lecture to 8th graders. The lecture was about wearable technologies and projects for the time we live in.

Niv is the founder and CEO of a startup dealing with the development of wearable technology to be used in emergencies, rescue and security missions.

In addition, in the last few years, he has been consulting start-ups, foundations and government offices in various areas:

Network marketing, branding, viral creation, crisis management and characterizing digital products.

For the last few years, he has been lecturing and speaking to different groups such as associations and companies at various conferences about modernism, social media, digital communication, wearable computers, crisis management online and more.

A summary of Niv's lecture:

The wearable technologies that have been introduced in the last year will create a huge revolution in our interconnectedness with each other and with the world around us.

Wearable technology is an extension of smartphones, which revolutionized many industries as well as our private life, starting with the introduction of the simple cellular phone way back in the 90s.

After his lecture, Niv posted the following on Facebook:

Today I gave two 45 minute lectures, one after the other, on wearable technologies, to 8th graders at a school in Ramat Gan. It was so cool!

1. The walls of the school were full of values like entrepreneurship, leadership, and guidance, while next to these values were other texts describing the importance of knowing how to give a presentation, read data off a chart and networking. It's fantastic!

2. 90% of the children have an iPad, and 100% of them have smartphones. The wonder in their eyes when I told them that both were invented on Star Trek! The same with elevator doors, Google Glasses, Bluetooth, and a few other things.

3. Relating the 19th-century pocket watch to modern watches and hearing them say that watches are just an accessory.

4. Letting them try Google Glasses while their friends enjoyed their expressions.

5. Twice, they wouldn't let me leave the classroom before everyone had a chance to try the glasses, including the teachers.
Guest Entrepreneur: Ayala Geron - Board Game Inventor and Social Entrepreneur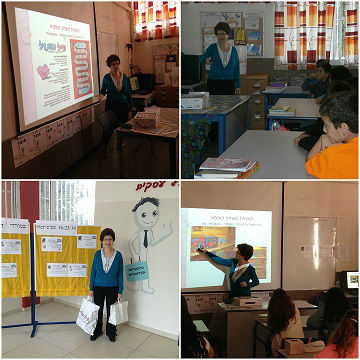 Ayala is an entrepreneur at her core, and combines her activities (beyond her time working in high-tech) with both business and social projects.

For example, she creates board games for children, and volunteers at retirement homes.

During her lectures at the Mordei HaGeta'ot school in Ramat Gan and the Kaplan school in Petah Tikva, Ayala gave examples of both types of projects.

The goal of her lecture was to explain what constitutes a project, what the entrepreneur must invest, and what they can gain.

Here is Ayala's definition of an entrepreneurial project: A project must make waves and influence people.

Ayala told the students about the development stages of the game, Elephant and Cat on a trail adventure, and how she first chose the name Notch.

Ayala showed the students another version of the game, with a different color box- yellow and not purple, like the one sold in Israel. She explained that the company which she works with and helps her develop the game and markets it, Fox Mind, found that people abroad do not like the purple color.

Ayala urged the students to become entrepreneurs in a field that is important to them and that they feel connected to.

After Ayala spoke about a book she wrote, which was published by the Center for Educational Technology for the benefit of youths with a mental disability, the students suggested her to write a book about how she developed and gained success with board games.

Guest Entrepreneur: Sasha Tabak - Robotics and The Internet of Things Entrepreneur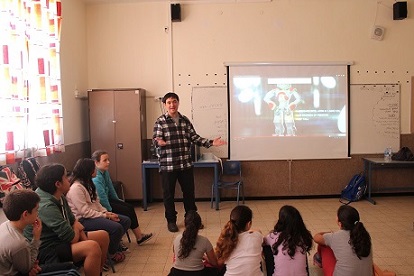 Sasha is an entrepreneur and a Robotics researcher at the Technion, a key figure in the field of Robotics and the Internet of Things in Israel. Both fields are developing quickly and are anticipated to change the way in which we function in our daily lives.

Sasha is the founder and manager of two MeetUp groups in Israel, Robotics Israel, and IoT- Internet of Things. These communities include hundreds of entrepreneurs who attend monthly meet-ups that Sasha organizes, where new connections are made between members.

The meetups consist of lectures which can be accessed remotely, and provide a stage for new projects in the field.

Sasha also founded and manages OptiBotics, an educational startup in the Robotics field, and he is also in charge of the Robotics Department at Ort Ebin in Ramat Gan.

These days Sasha is promoting the development of an entrepreneurial club (Accelerator) in the field of Robotics and the Internet of Things, in which Israeli start-ups will be incorporated into a field that is growing and accelerating.

Sasha accepted an invitation to come to the Mordei HaGeta'ot school in Ramat Gan as a guest entrepreneur and talk to 6th graders.
Guest Entrepreneur: Danny Sharon the Magician - Founded a Business for Magic Tricks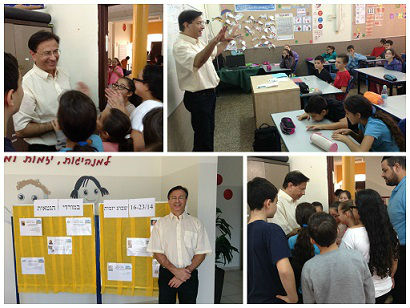 Danny started a private business in juggling and magic tricks, a business that began as a hobby. Danny has been a computer systems analyst for 30 years, and managed a large company's computing system for over 20 years.

After work, Danny picked up juggling and would practice 2-3 hours a day.

After a few years of practice, he became a professional and began performing.

Three years ago, he decided to open his own business in juggling and magic, left his secure workplace, and dedicated time and resources to build a business plan. (Market research, finances, marketing plan and more...)

According to this plan, he built his business. Danny explained that it's important to have a relative advantage in your business, and his advantage was that he himself was the magician and juggler, meaning that he understood the field and could advise customers that came to him using his relevant experience.

The business plan included setting a target audience, and because not many people are interested in circus accessories, he decided to also direct his business at children since they like magic.

Danny continued and shared a debate he had when deciding on the location of his store: Should he open the store in a shopping mall or on the street? And if on the street, then where? The students tried to help with different opinions and explained the pros and cons of different locations.
Guest Entrepreneur: Sarah Bar - Social Application Entrepreneur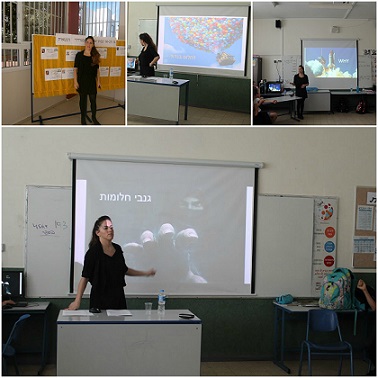 Sarah, a particularly energetic entrepreneur, tells students how she got the idea for the application that she promotes these days:

People today are used to sharing where they are, what they are doing, where they were and what they did, all in the present and past tense.

We strive to promote a culture of sharing future plans, so that people can share what they plan to do in the future with their community.

This actually opens a window of various opportunities for them, their friends, their acquaintances and anyone exposed to their plans, and also for people that they don't know, or businesses and offers that could be useful for them.

This is actually a culture of sharing the future, which creates a map of occurrences and events made up by users (like Waze, whose maps were made by the drivers themselves while driving).

What we actually create with our application is a Future Database, which is really a window into the future.

Sarah was delighted to be invited to the Mordei HaGeta'ot school in Ramat Gan as a guest lecturer during Global Entrepreneurship Week 2014. She even visited the school before her lecture so that she could make the lecture relevant to the children's lives.

Here is a post that Sarah wrote after her first visit to the school: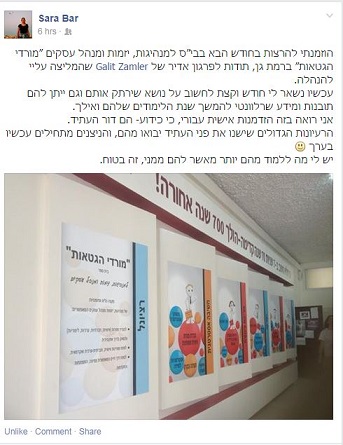 Guest Entrepreneur: Sharon Mualem - Founder of EVT, Online Fitness Project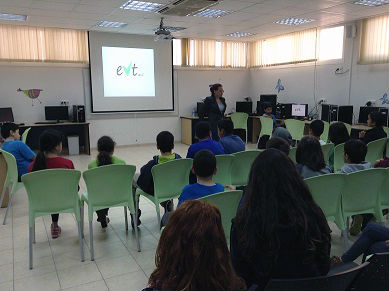 Sharon has been visiting schools for a few years, and tells students about the online fitness project, EVT, that she founded with her husband Sasi.

"We are a startup company in the field of fitness.

We took the fitness gym as-is and digitized it.

We offer video tape fitness classes to clients.

We offer a large range of classes, such as Pilates, aerobic dance, kickboxing and more...

The idea is that anyone can train, anytime and anywhere."

Sharon asked the students why fitness is important and explained the connection between fitness and health, beauty and aesthetics, feeling good and success. If you are healthy and feel good about yourself, then you express vitality.

Sharon explained the advantages of the online fitness project, especially in a time when parents work long hours, people struggle with the cost of living, and technological advances are booming.

According to Sharon, as our needs grow, we tend to neglect our bodies. We work a lot, sleep too little, busy raising children and struggle to stay fit. This struggle is exactly what the online fitness project aims to help. Anyone can exercise in their free time, in front of their computer, with qualified trainers and with a personal touch.

Sharon ended her lecture with an example of a children's fitness class.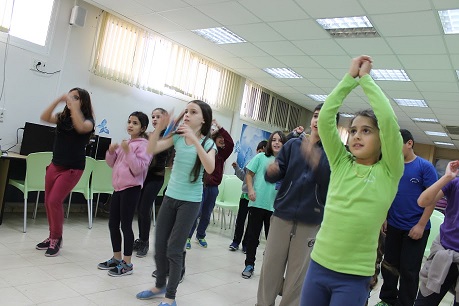 The site offers personal guidance by trainers and accompanies the trainee to reach their goals. (Individual attention is given to each trainee by the system).

Guest Entrepreneur: Liat Henriette Silber - Milat Hayom Founder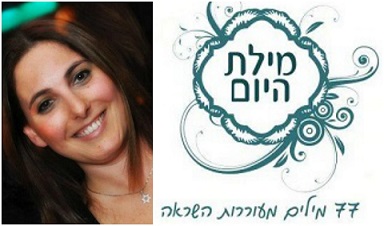 Liat was invited to lecture at the Mordei HaGeta'ot school in Ramat Gan, and to tell the story of how she published her book, Milat Hayom (word of the day), and the accompanying flashcards.

"My name is Liat, I am a dance and movement teacher, a reflexologist and a leader of women's circles.

Following a health problem that came into my life two years ago, I began writing one word a day that symbolized inspiration for me.

This is how I created the Milat Hayom project (a book and kit of cards).

Milat Hayom is an inspiration in a word that drives people to action and makes the day wonderful.

Since I was unable to fund all of the project's expenses, I tried crowdfunding on Headstart and succeeded, in 50 days, to raise money from 85 supporters who purchased the book and cards."

Behind this short summary is a woman who experienced a breakdown in her life and took advantage of it, using it to open new doors and a new path. She used tools and methods that she was not familiar with, but decided to just try and dare, and found success!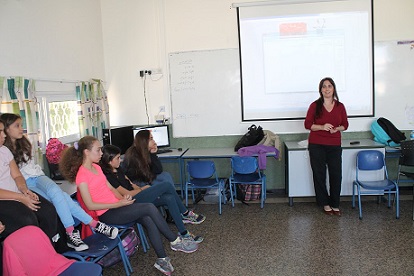 Liat also accepted the invitation to lecture at the Katznelson school, lecturing 6th graders in the Entrepreneurship for Kids Program. Read more on our Guest Lecturers page
Guest Entrepreneur: Einat Shamir - Shoval- Threadwork, design, creation and education Founder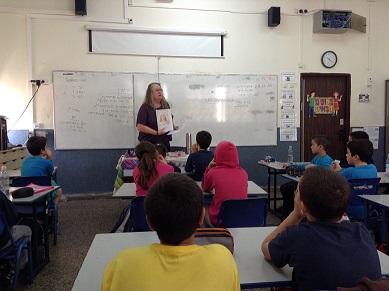 Einat talks about how she began a thread work business:

"I always loved crafting and learning new things.

I was especially drawn to thread work and to the huge variety included (and to the fact that they are fashionable, and the materials don't make a mess...)

I began collecting patterns at a young age, I learned all I could, I researched in books and magazines, and later on, the internet as well. I designed, invented and combined materials and styles, and learned how things were built in order to renovate them.

When I decided to start a business, I wanted to continue doing exactly what I love. It was a long process which finally ended up in a business made up of products that I designed and created by hand (mostly jewelry and accessories), lessons where I teach children and adults to knit, cross-stitch, crochet, weave, knot and more, and creating small and cute products. I also sell weaving kits that I developed."

Einat told the students at Mordei HaGeta'ot school about how she started her business:

"At first, I realized that in order to make money from my hobby, I needed to focus, so I decided to focus on hats. So for every hat I liked, I made a sample and produced more to sell.

In addition, as soon as I decided to start teaching, I understood that the best way to teach is to provide a sort of recipe, and this is how I taught people how to make hats. But eventually, selling hats became problematic, since stores are full of cheap hats from China, and for me, just the fabric costs more than a Chinese hat. Therefore, I only sold my hats in a store selling local crafts.

The biggest market for hats is the Orthodox Jewish market.

8 years ago, I taught a hat-making class at Wizo, and I put together a workbook about hats. It turned out that it was the only Hebrew workbook explaining how to make hats. This realization exposed my business to new directions, and I began making more products: berets, rings, and accessories."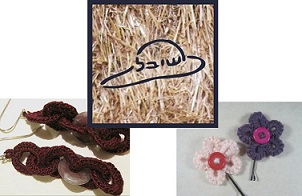 "At the same time, I started looking for additional marketing channels and began teaching at schools and clubs.

A year ago, I developed two kits that teach a Japanese technique and can be used to make different things, such as shoelaces or bracelets. The greatest advantage of this technique is that it can be packed in a box, and you can easily follow the instructions at home."

Einat explained that craft work improves concentration, motor abilities and, brain development, especially when both hands are working and when every hand is facing a different direction.

As of today, Einat sells her products online. Among her products are earrings, bracelets, rings, belts and Japanese method kits.

Regarding children, Einat's goal is to visit schools and birthday parties. Einat also offers adult workshops for organizations, workers' councils, and places that will enjoy the workshops and benefit from crafting.

To wrap up, Einat says "My favorite is when people ask, 'what? You made this?'"

Towards the end of her lecture, Einat emphasized how fun it was to craft with threads and gave out yarn with which the students made pom-poms.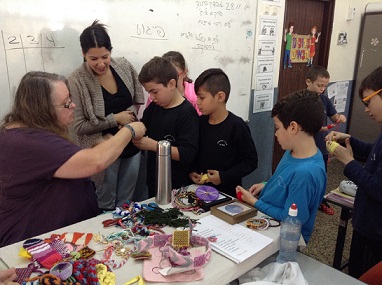 The wide array of activities that Einat offers is available on her website: Shoval Hats and Accessories.
The Entrepreneurship for Kids Program thanks and supports its guest entrepreneurs, who voluntarily lecture for students, by exposing their projects on this website.

Guest Entrepreneur: Yoram Cohan - Technological and Culinary Entrepreneur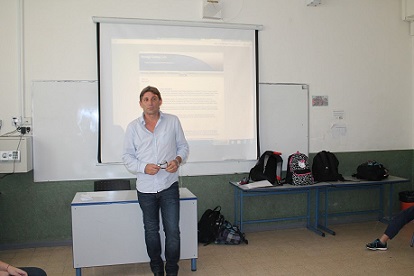 The Entrepreneurship for Kids Program got to know Yoram after working with the Arnon school, where Yoram teaches the program. In light of Yoram's entrepreneurship background, he was invited to lecture at the Mordei HaGeta'ot school in Ramat Gan during Global Entrepreneurship Week 2014.

Yoram served in the IDF for 25 years, where he began as a reserve officer and ended as a Lieutenant Colonel in computer services.

As part of his service in the field of computing, Yoram filled a variety of senior positions, including deputy commander and chief instructor of the computing school (Mamram), head of IDF computer security and head of planning and management of war games for the general sector.

Yoram started a number of projects during this time, among them a simulator for senior managers to deal with strategic dilemmas.

Today Yoram is an educator at Masad Nachshon and a teacher at the Arnon school in Ramat Gan. He is also a partner in managing a strategic project around the world.

Yoram's formal education includes a Bachelor in Economics from Bar-Ilan University, an MBA from Ben-Gurion University and a senior teaching degree from the Beit Berl Academic Center.

Yoram runs a website for meat-lovers: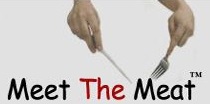 Guest Entrepreneur: Tamir Schwartz - Technological Entrepreneur



Tamir has two children at the Mordei HaGeta'ot school, and has been lecturing during Global Entrepreneurship Week for several years.

Tamir is an information systems engineer and Technion graduate, with a Masters degree in law.

I worked at Matrix for 7 years as a senior project manager and manager of the development and design department.

In the last 7 years, I've been an entrepreneur, and worked in a number of start-ups, including the startup I founded and funded.

I currently work at an internet company as a product manager.

Tamir's lecture was: The rise and fall of a project.

Tamir opened his lecture by asking the students to shoot a ball into a small basket, with the assumption that they would not succeed.

He then asked the students to suggest solutions to the problem, and the consensus was that shooting the ball would be easier if the rules were changed.

In this way, Tamir illustrated that entrepreneurs don't say it's hard or, it's impossible, but instead see hardship as an obstacle that can be solved and overcome.
Guest Entrepreneur: Michal Brotfeld - Art in Threads Founder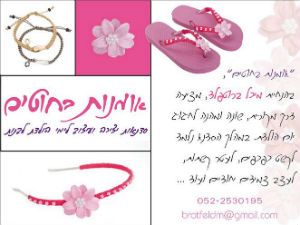 This is the second year that Michal is a guest lecture. This year, she lectured at the Noam Mohaliver school in Bnei Brak and at the Yad Mordechai school in Bat Yam.

Michal speaks about how she went from a public relations career to a private business in a field that she had loved for many years- art in threads.

Michal tells the students about her experience as an entrepreneur, the process of defining a market, marketing for the selected market, the challenges she met with and how she overcame them, or still deals with them. She also spoke about how she uses Facebook as a marketing tool, and how she distinguishes Art in Threads from other similar businesses.

Read more about Michal's lecture in GEW 2013 here.

Here is a photo from Michal's lecture at the Yad Mordechai school in Bat Yam.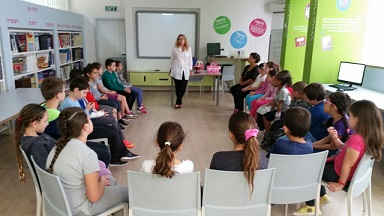 Guest Entrepreneur: Ilanit Beno - Founder of A Taste of More Catering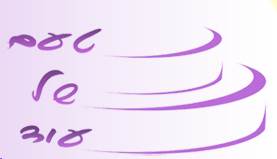 This is Ilanit's second year as a guest lecturer during Global Entrepreneurship Week. This year she lectured at the Yad Mordechai school in Bat Yam.

Ilanit is a confectioner with a dairy catering company, and leads baking and cooking workshops for children and adults.

Ilanit founded her catering company four years ago in Rehovot, where she lives. Her target audiences are private customers and those holding events with up to 100 guests.

In her lecture, Ilanit spoke about the process of founding a business, how she chose the name, the logo, marketing strategies, and her plan for the future.

Ilanit urged the students to choose a field they liked, because then they would commit to success with all their heart.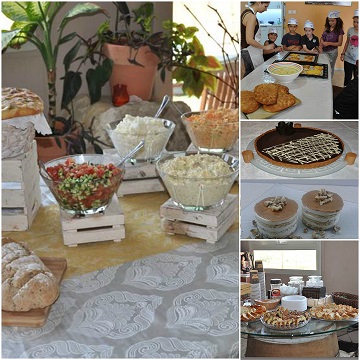 Guest Entrepreneur: Eldad Caspi - Creator and Leader of Human Nature Program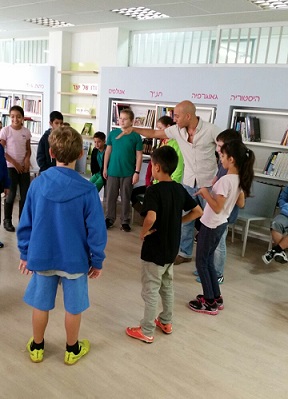 Eldad holds a Master of Science degree in medicine from the Tel Aviv University Medical School, and a Bachelor of Science in Environmental Studies and Marine Biology. He is a certified group guide as well.

He has been a senior, personal, family and group coach for adults and teens, for over seven years.

He created and leads the Human Nature program, a social and leadership project for self, social and environmental-realization.

The program focuses on the individual, their character, desires, original and creative thought, increasing self-confidence, love of nature and the environment, widening and deepening interpersonal connections, promoting communication, the choice not to give up, and more.


Eldad's lecture at Yad Mordechai in Bat Yam and Kaplan in Petah Tikva was: Is it human nature to be an entrepreneur?

Guest Entrepreneur: Innon Boim - PT Portal Founder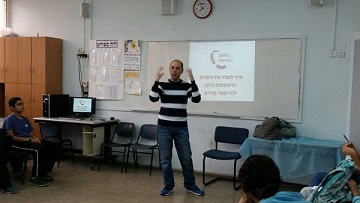 During his lecture for 6th graders in Petah Tikva, Innon spoke about the PTNeto Portal- a highly-respected portal in Petah Tikva that includes objective information on all that is happening in the city. The PTNeto Portal has set itself the goal of becoming a home for small businesses in Petah Tikva.

Innon wrote in the portal about Global Entrepreneurship Week at the Kaplan school, and about other educational activities.

Inn Boim is also the CEO and owner of Simple Finance, a senior economist, an entrepreneur, a lecturer and economic success mentor for families and business, a proud resident of Petah Tikva, who decided to develop the portal as an online platform to provide information to residents of Petah Tikva and the surrounding area.

In the PTNeto Portal, one can advertise events and write articles/blogs, add oneself to lists of business and write on different message boards (organized by type of business), such as real estate, wanted ads, cars, etc. In addition, it is possible to help sponsor or cooperate with events taking place within the portal.

Innon says, Using the Simple Finance method, I successfully direct my clients and provide them with a practical solution, through which they can forget about overdrafts, relax and follow their personal dreams, like an international vacation, a home makeover, festive events, education for their kids, retirement and more. Thanks to the Simple Finance system, my clients are mindful of their cash flow and know how to fully control it.

Innon used the experience and knowledge he gathered as a financial advisor to develop a finance course for schools. The course is intended for schools that understand the need to teach and implement curricula in finance, and for management and teams of teachers who urge the next generation to enrich its knowledge and conduct it wisely. The course is hands-on and promotes enrichment, and provides tools and skills required by every child in Israel. A child who understands the financial significance will better appreciate money and be a valuable part of the system in the future.
Guest Entrepreneur: Yossi Katz - Yossiversity Founder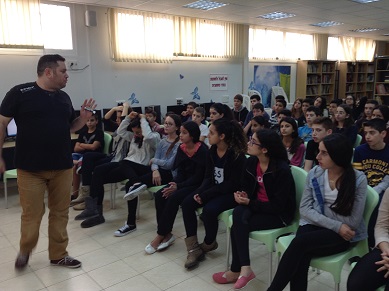 Yossi told the students how he came to manage the Yossiversity center.

I'm not an expert in entrepreneurship; I do what my heart tells me. I know that for a project to be established, you need a new idea that has a demand. The entrepreneur needs to stick to his goals, know how to make decisions, sometimes, be brave and to be focused on his goals.

The realization that I want to help kids hit me when I was 12; My mother, who is a psychologist, left an article on the table and I, who loved to read, read it. The article was about a student in London who was unpopular, and during a field trip, no group wanted her to sleep in their tent. When the girl spoke to the trip organizers, they sent her to a different room where she was alone. The next morning everyone searched for the girl, who had run away, and left a note in her room saying A human stayed in this room, not a monkey.

And so after reading this article, when I was in 7th grade, I knew that all I wanted to do in life was making people feel better so that they could follow their dreams.

Later Yossi studied Psychology, examined many people and became a popular lecturer. But, he says, I never felt that I was achieving my dream.

Yossi came to the realization that in order to achieve his dreams, he should help children, after a workshop for parents of children with ADHD. At this point, Yossi understood that all a child needs is one adult who believes in them.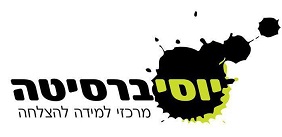 And so at the age of 35, Yossi left his work and hung up signs around the city, in which he offered his services as a math teacher. This marketing strategy didn't work, so he began working with autistic children by word of mouth, and began getting students. At first, he taught at home and despite difficulties providing for his family and a decrease in his financial status, he believed in his dream and slowly gathered more students. Eventually, he rented an apartment, hired more teachers who learned his method, and as he got more students, he widened the space, even asking neighbors to leave so they could use the apartments as classrooms. This required creativity, commitment, some rudeness, and bravery. This method proved successful, and today Yossi rents an entire floor in a building and is living his dream- helping children and making them believe in themselves.

Yossi explained that being an entrepreneur isn't easy, and it's difficult to fail, but failure is a failure only if you don't learn from it. If you do, then you gain experience.

Yossi believes that in every student there is a spark and that everyone has a dream, and urges everyone not to fear, to realize their dreams, and never allow fear to take charge. Only then will change come, and with it, opportunities for growth.

Guest Entrepreneur: Galit Zamler - Entrepreneurship for Kids Program founder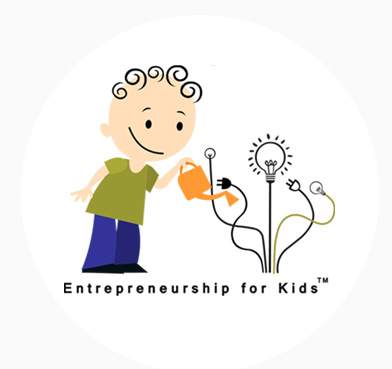 Galit Zamler, who is the brains behind the Entrepreneurship for Kids Program, attends several lectures during GEW, visiting different schools who run the program.

Galit tells the students about Global Entrepreneurship Week, about the Entrepreneurship for Kids Program, which they study, how it came to be, and how it is developing.

Afterward, Galit runs an activity that highlights the importance of teamwork to the success of a project.

This year, Galit was invited to lecture at the Yad Mordechai school in Bat Yam, the Kaplan school in Petah Tikva, and the Noam Mohaliver school in Bnei Brak.

Galit also lectured at the Mordei HaGeta'ot school in Ramat Gan as part of the Coffee-Entrepreneur event for parents and students. She spoke about the importance of educating about entrepreneurship.

top